Posted on August 18 2020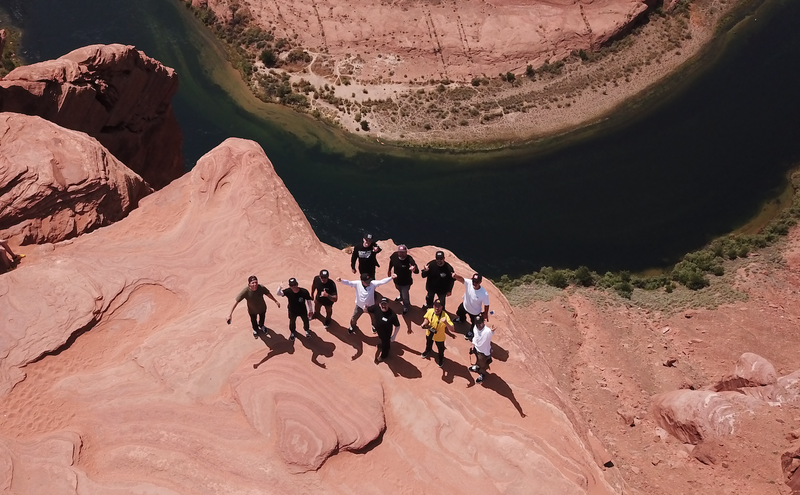 Day 1 & 2 of our Epic Sturgis Journey!
2LaneLife
Two moto-vloggers passionate about traveling and the open road.
You guessed it, it's that time of year again. Sturgis! We look forward to this trip every year and this one didn't disappoint! The ride was nothing short of phenomenal and we're ecstatic to be able to share our whole experience with you guys from here on out! This is our passion and our purpose...sharing the great stories of the open road with the goal of inspiring others to get out and do the same. It gets better and better every year, and despite the current state of affairs, we still had an unbelievable trip. Nothing like some uncertainties to keep you on your toes! 
From bike issues within the group, 110° days, rain, lighting, and wrong turns, we wouldn't have it any other way...except for maybe the bike problems. It's all about the journey and the experiences that it brings, and those are all a part of what makes times like these so memorable. We're fortunate to not only be able to get out on rides like this, but to go the distance with such a genuinely amazing group of dudes. It's all positivity around here, and everyone had the same goal of riding across the country to see some unforgettable views and have the time of their lives. Great friends, good food, and better views...that's the recipe for a successful road trip, and we had all 3. 
On day 1, we met up at the 2LaneLife Garage & Thrashin Headquarters in Canoga Park, CA at 5:00am sharp... or at least that's the time we agreed on. Once everyone showed, we got on the road by 5:30 to head to Victorville to meet up with the Feuling crew. Coming into Victorville on the Pearblossom Highway, we were greeted with a killer sunrise to start the day. After some fine dining under the Micky D's golden arches in the parking lot, we started out on the first stretch of our journey. We stopped in Baker for some gas before reaching our first goal of Las Vegas. Rob's dyna was having some fueling issues and only got about 100 miles to the tank, so we had to stop more frequently than we're accustomed to, but it's all good! The weather was fairly comfortable in the mid 90's entering Baker, but by the time we got into Vegas, it was in the 100's. Shortly after, we took a pit stop at Red Rock Harley Davidson in Vegas to look for new shift linkage for, you guessed it...Rob's dyna.
The miles were flying by, and before we knew it, we had passed through Mesquite Nevada and ended up in Springdale Utah, where we would be spending the night before riding through the beautiful Zion National Park in the morning. We settled into the hotel, relaxed by the pool for a bit, then headed to dinner at the Bit & Spur Restaurant and Saloon conveniently right across the street! We got some great outdoor seating with views of wildlife and the surrounding mountains, and great meals to match. It was nice having such a great restaurant within walking distance of the hotel, to bring the day to an end before our adventures ahead. 
Hampton Inn & Suites Springdale/Zion National Park



Look at all those bikes! We had a great stay, and came out in the morning recharged for another full day of riding! (They even let us park out front under the awning over night).
We started the second day by waking up early and heading straight to the south entrance of Zion National Park. A handful of guys on the trip had never seen Zion before, so it was awesome to watch them experience such an epic place on two wheels! We rode through the park, with the golden morning light reflecting off of the humbling rock structures throughout. We saw some wildlife, passed by other riders, and got to ride through the Mt. Carmel Tunnel, which is a 1.1 mile stretch within the mountain, which was originally built in 1930 to provide direct access to Bryce Canyon and Grand Canyon from Zion National Park. We ended up on Highway 89 and cruised into Kanab Utah for a nice small town breakfast at Jakey Leigh's Cafe. A cool little establishment right on the boulevard, they welcomes us in to enjoy some great food and coffee before heading out to Horseshoe Bend. 
We ripped through the forest on the 89A Highway, then descended down to the desert flats of Marble Canyon for a gas stop and some much needed hydration. The temperature was rising, and we decided to head to Lee's Ferry, where we could go swimming in the Colorado River! Even in weather upwards of 100 degrees, that 40 degree water sure was cold! Regardless, it was a refreshing stop, and we hopped back on the bikes ready to see Horseshoe Bend in Page Arizona! What felt like a short ride later, we pulled up to the parking lot and took the short walk down to the view.
This was another spot that a few of the guys had never seen before, and they were definitely impressed! Despite seeing it multiple times in the past, the two of us were still amazed at the vast, seemingly endless landscape. You can walk up right to the edge of the huge cliffs hanging over the Colorado River, and it's so high up you can barely see kayaks. Even the boats look like ants from up above! We hung out for a little while, then headed off to get some lunch at the Dam Bar & Grille right down the road. Clever name or not, it was some great food! We ate lunch, quenched our thirst, and worked on some bike fixes before heading out on our goal of reaching Moab Utah. We hopped on the Arizona 98 Highway to head towards Monument Valley, AZ and cruised through some epic desert views. With unique rock formations everywhere, it's hard not to stop and take a look. Luckily...or not so lucky for us, we had an unplanned stop just a few miles away from Monument Valley when...wait for it...Rob's dyna died on him. The rest of us were ahead, and after realizing that he was a ways behind, we turned around to check it out. It turned out that his battery was 13 years old and was completely dead. Thankfully, our buddy Evan was able to hook up a battery tender to get him to the next stop.
On the way, we stopped at the iconic "Forrest Gump Point" on route 163 where Forrest Gump suddenly finished his marathon in the 1994 classic.
With daylight running out, and all nearby battery replacement options closed, we decided to hit the road for a few more miles to spend the night in Mexican Hat. We pulled into the San Juan Inn, where we would have dinner and spend the night. They have an on-site restaurant,  The Olde Bridge Bar and Grill which had some great dinner options with a Navajo twist!

Overall, it was an eventful and exciting first leg of our trip, and it had us fired up for the road ahead! We couldn't believe we still had a week and a half of riding before returning home to Southern California...and that was the exciting part! We hope you guys enjoyed the video and liked the blog if you made it this far. If you did, shoot us a comment down below and let us know what you think...or tell us if you've been to any of these places, either way!
If you click on the image of the map, you will find a link to the route to our entire Sturgis Journey! There's plenty of different routes and stops along the way as well! It may look like a ton of distance to cover for some, but taken in sections, it's super enjoyable, especially with all of the views! 

(click here to open in a new window)
**Remember to always stay up to date with road conditions and routes, 2LaneLife is not responsible for peril.                                                        

Whether you have a busy or wide open schedule, you can always make it out for a quick day trip or even a weekend trip somewhere close! The important part is just getting out and seeing new places on the open road with good people.
As always, were extremely grateful for all of the support, and hope you guys are all living the 2LaneLife! 
Until next time...
Stay safe...stay inspired

-2LaneLife
Focus on the Journey
Gearing up for long trips can be rough, but we've got you covered! Check out our assortment of products and feel free to reach out with any questions!