Posted on August 05 2020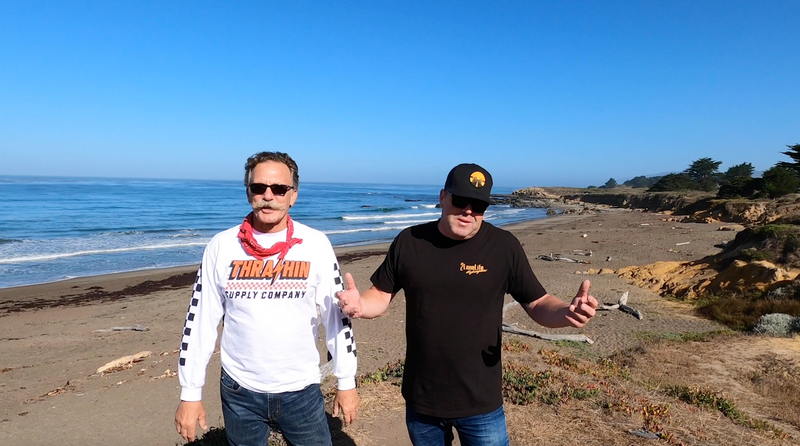 The Ride up to Cambria Beach, CA
2LaneLife
Two moto-vloggers passionate about traveling and the open road.
Another great run in the books! We met up early Saturday morning without a complete plan for where to go and what to do, but it ended up working out great! We headed up the coast with the wives and enjoyed some good 'ol fashion SoCal scenery and some great weather along the way. This ride was a great example of making it happen in a short amount of time and a relatively close destination. You can get a lot of places in a day or two, just gotta get out and do it! We ended up seeing some cool places like Hearst Castle (the entrance at least..), Moonstone Beach, Nitt Witt Ridge, and more! We hope you guys enjoyed this drop, we had a great time riding and getting out with the wives!
If you click on the image of the map, you will find a link to the route that we took, and can take the trip yourself if you choose to do so. Whether it's on a motorcycle or in a car, there's plenty of sites to see, and rich history to learn, so get out there and explore! 

(click here to open in a new window)
**Remember to always stay up to date with road conditions and routes, 2LaneLife is not responsible for peril.                                                        

We started off the morning in Moorpark for Breakfast where we decided what the plan was. The Cabbage Patch Restaurant had some nice outdoor seating, and we had a great breakfast before heading up the coast!
It was a great restaurant to start the day, with some great service, good views, and a cool little small town vibe
Once we pulled up to the Avila area, we figured we'd check out the Blue Moon Over Avila for a relaxing meal to celebrate the fun weekend ahead. We had some great salads, soups, and drinks. With a great view of the beach and boardwalk, and some delicious food, we'll be back the next time we're in the area for sure!

For dinner, after arriving in Moonstone Beach, we headed to none other than the Moonstone Beach Bar and Grill. It was right next to the ocean, giving it a nice relaxing vibe where we had a delicious surf and turf dinner with some fish and steak. It was a great way to end a great day of riding
Before heading out to see some great stops on the way home, we swung by Cambria Mimosa's Steak & Seafood for some classic breakfast. We had some coffee, fruit, and some scrambled eggs with a twist. The food was great and the seating was spread out. It's always great trying new places!
Hearst Castle
While we weren't able to make it inside this trip due to closures, we still stopped by the entrance to check it out and talk some history. As you can see in the picture, it's a breathtaking property and even has an olympic sized swimming pool. just off of Highway 1, Hearst Castle stands as an architectural gem among the coastal hills. This national and California state landmark is known for both its refined beauty and idyllic location. You'll find it a little over 5 miles north-east of the village of San Simeon, and conveniently, it's about a 4-hour scenic drive from either San Francisco or Los Angeles.
Nitt Witt Ridge
We like to call this one the "Poor Man's Hearst Castle. It's a house on two and a half acres in Cambria, California, United States. Artist Arthur "Art" Harold Beal bought his hillside lot in 1928 and spent most of the next 50 years carving out the terraces with only a pick and shovel, creating his own "castle on a hill". It was really interesting to see and they even offer tours if you choose to check that out!
Whether you have a busy or wide open schedule, you can always make it out for a quick day trip or even a weekend trip somewhere close! The important part is just getting out and seeing new places on the open road with good people.
As always, were extremely grateful for all of the support, and hope you guys are all living the 2LaneLife! 
Until next time...
Stay safe...stay inspired

-2LaneLife
The right gear makes the ride that much better
For weekend trips, nothing beats having your clothes and gear organized in some quality luggage. Check out or selection of duffles, luggage, parts, and more