Posted on August 26 2020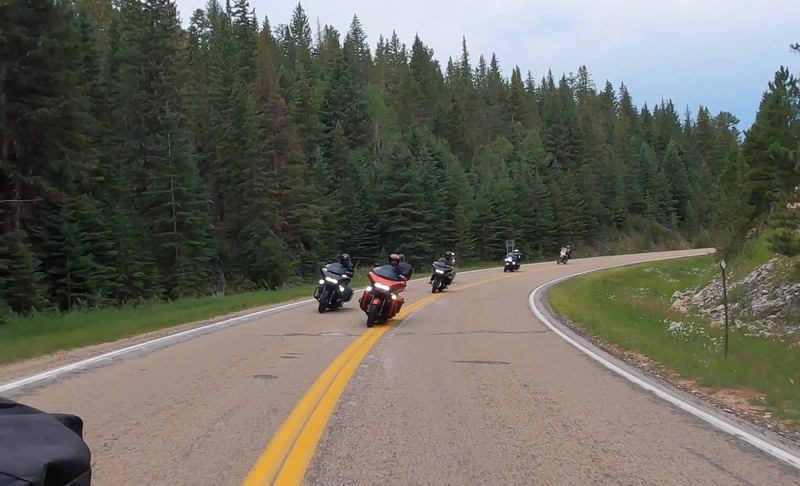 Days 3-4 of our Unforgettable Sturgis Journey!
2LaneLife
Two moto-vloggers passionate about traveling and the open road.
If you liked the first part of the trip, we think you'll dig this one! We got to catch some amazing views and changing landscapes all throughout the journey from Mexican Hat to Sturgis. From the vast open plains in Moab, to the winding mountain roads on the 14 coming out of Steamboat, and the breathtaking walls of pine through the Black Hills in Sturgis, we got to see some pretty amazing places. All the bikes were dialed in, and until Little Lance won a nice prize, we were keeping the pace up while still enjoying the surroundings. 
We hit some detours, rode through some rain, and had an interesting time adjusting to some of the traffic laws in different areas, but that just made the experience that much more unique. Creating new memories, even if they're in places you've seen before, is the whole point of the trip, and 3,500 miles would be pretty boring without a little excitement.
We started day 3 by riding through Mexican hat on the 163 and got to see the various rock structures throughout. The roads were open, the weather was great, and everyone was feeling good. We headed to Blanding Utah and then out to Moab where we stopped and had a great lunch at ZAX Restaurant for some good 'ol Americana food and some cold ones!

After lunch, we made our way to the I70, which would lead us to Fruita Colorado for our next break. We got hydrated, then headed off to the 13, which would take us to a detour on the 40 where we rode a couple miles on a dirt road during construction. There were some pretty serious looking fires, so with the sun beginning to set, and the smoke in the air, we ended up getting quite the view.
Despite riding through dust and smoke, we were excited to at least catch a little dirt and new scenery as we weren't able to take the Moki Dugway the day before. Eventually, we landed in Steamboat Colorado, where we laid back and had a great dinner at Mahogany Ridge Brewery & Grill. We shared some good laughs, had a few drinks, and relaxed over a quality meal before hitting the hay for the next day's trek.
We woke up on day 4 in Steamboat, and Luke found a cool little spot down the road from our hotel called La Pasadita Del Burro. It was a rad little shack with an authentic feel, all ran by a one man show, cranking out breakfast burritos for the boys like there's no tomorrow! The weather was great out there, and it had us getting excited to get back out on the road and get some miles in!
We started off on the 14 coming out of steamboat and got to ride through the lush, green mountains on our way to the open plains on highway 30 in Wyoming, where we got our first dose of rain for the trip. We all pulled over, geared up, and headed towards Sturgis, which would be our main destination for the trip! Despite having some bike issues the previous days, we still covered quite a bit of miles in 4 days, and it was a great ride regardless. Right after we pulled up to the house in Sturgis, it began to rain pretty hard, so we covered up the bikes and headed out to town to grab some dinner and drinks. Luckily when we came into town, the big crowds hadn't shown up yet, so we got to have a peaceful night before the town came alive the next day.
There's so my different routes out there to take, but no matter which roads you choose, you're guaranteed to see some amazing places!
If you click on the image of the map, you will find a link to the route to our entire Sturgis Journey! There's plenty of different routes and stops along the way as well! It may look like a ton of distance to cover for some, but taken in sections, it's super enjoyable, especially with all of the views! 

(click here to open in a new window)
**Remember to always stay up to date with road conditions and routes, 2LaneLife is not responsible for peril.                                                        

It was another great couple of days on the road, and finally getting to Sturgis made the ups and downs completely worthwhile. We've said it before and we'll say it again...when you're traveling in good company, there are no bad days! We hope you guys enjoyed watching our journey as much as we've loved taking it!
As always, were extremely grateful for all of the support, and hope you guys are all living the 2LaneLife! 
Until next time...
Stay safe...stay inspired

-2LaneLife
Focus on the Journey
Gearing up for long trips can be rough, but we've got you covered! Check out our assortment of products and feel free to reach out with any questions!