Posted on January 24 2023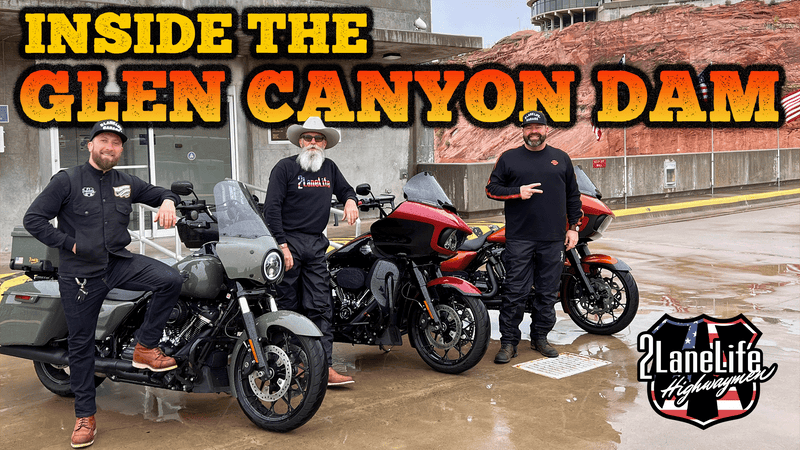 2LaneLife
Two moto-vloggers passionate about traveling and the open road.
Day 5 of our adventure out to Page, Arizona and we got to do something we didn't think we were able to pull off! When we rode in on the first day, we looked down and noticed a motorcycle on top of the Glen Canyon Dam and thought to ourselves, "how do we get down there?!". As it turned out, they stopped doing tours of the dam years ago, so we were on a mission to make it happen. Luckily, after meeting some great people during out stay in town, we pulled some strings and got an exclusive tour set up!
We rode down to the dam first thing, hitting some rain and chilly temps on the way, made it through security, and rode down a vibrant carved out rode leading to the top of the dam. There, we met Kato the operations supervisor, who would be taking us all throughout the dam. In the prior days, we had learned so much about the history of Page, the construction of the dam itself, and some of the obstacles they are facing with fluctuating water levels, so we were excited to take a look inside and see how everything works! 
It was pretty wild to see all of the moving parts in every section of the facility. From the giant pipes, the massive turbines, and vast tunnel systems, there's a whole lot more going on in there than one would think!
After touring the dam, we headed into town to go hit up one of our favorite local restaurants in the area, The Dam Bar & Grille which we have stopped at a few times passing through Page on other trips. After hanging out for a while and meeting a small group of guys riding their adventure bikes on quite the trip, we made our way out to the Antelope Point Marina to speak with Ken Reynolds to learn about some history as well as the various water activities that are available in the area.
From house boating, to charters, private tours, fishing, and kayaking, there's no shortage of things to do when exploring Lake Powell and we can't wait to make it back out there to see more of it for ourselves! It was pretty dang cool being on the largest floating restaurant in the country too!
After hangin' at the marina, we regrouped then cruised over to the New York Teriaki restaurant for dinner on our mission to try every restaurant in town! We got some great sushi, ramen, and teriyaki, and it made for the perfect meal to finish off a busy day on two wheels.
We're nearing the end of the Page, Arizona video series and have received some awesome feedback from all of the great viewers out there! We hope everyone found this trip helpful for future travels and we'll...
See ya down the road!
Focus on the Journey
Gearing up for long trips can be rough, but we've got you covered! Check out our catalog of products and feel free to reach out with any questions!