Posted on March 05 2023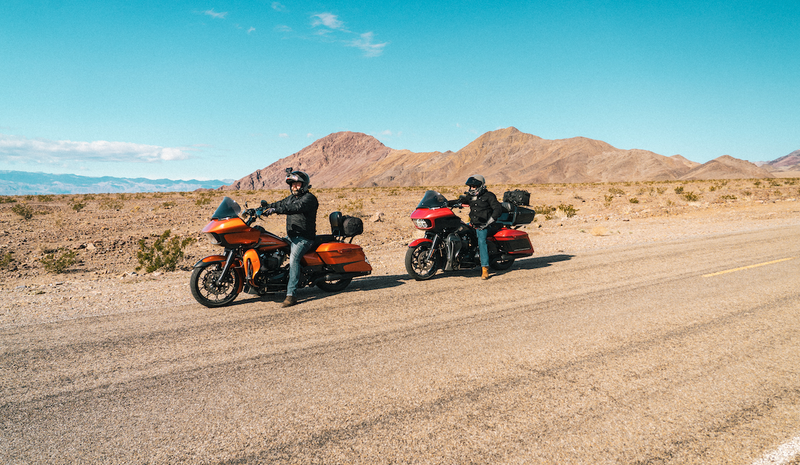 Rollin' Through Death Valley!
2LaneLife
Two moto-vloggers passionate about traveling and the open road.
With our trip coming to an end, we still had a beautiful day of riding ahead and would not only be taking an on-the-go tour of Death Valley National Park, but we would also be riding out to US395 on HWY190 which is one of our favorite desert roads in the state!

This day wasn't just any day either...it was Lance's Birthday!! We started things off with breakfast at Gema's Wagon Wheel Cafe before hitting the road though the park. Beatty is known as Nevada's Gateway to Death Valley and is just minutes outside the park. Lance had to get back home for a birthday dinner, so the plan was to roll through the park with minimal stops and just enjoy the scenery and memories along the way. We passed some of our favorite stops like Panamint Springs, the haystacks, and the sand dunes, and followed the 190 up into the hills with winding turns and lots of elevation change along the way.
HWY190 has some significance to us as years back on a group trip, we had a bit of an incident involving 2 bikes and some injuries and this was our first time back together since then. We decided to pull off on the final stretch leading to US395 to share some of that story and some of the valuable lessons we learned from the experience.
After sharing stories and checking out the scenery, we rode into Olancha to fill up before the final 175 mile stretch home. It was a bit windy out, but the temps had increased quite a bit since our freezing temps from the days prior and we were enjoying our time in the sunshine! 
All in all, it was another incredible trip for the books and made for some great stories. There's nothing quite like hitting the road with the goal of having an adventure and plenty of good times along the way, and that's just what we did. We hope everyone enjoyed following along on the trip as much as we did riding it and we can't wait for the next adventure!
Focus on the Journey
Gearing up for long trips can be rough, but we've got you covered! Check out our catalog of products and feel free to reach out with any questions!