Posted on March 16 2023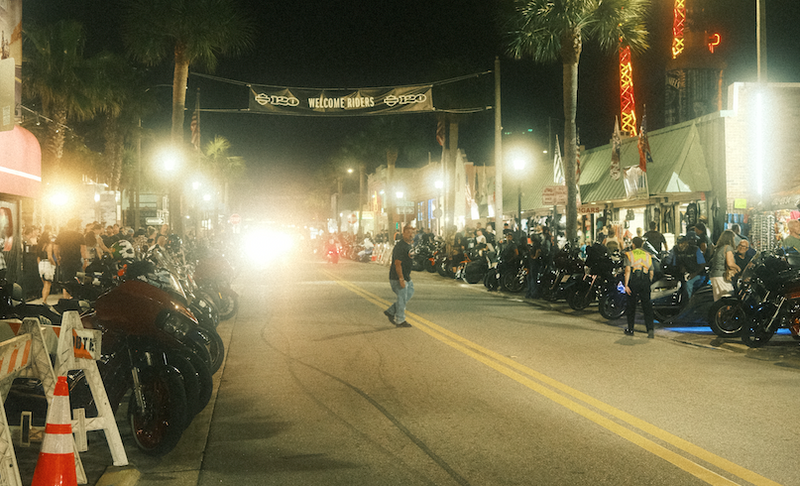 2LaneLife
Two moto-vloggers passionate about traveling and the open road.
For years, we've had friends and fans reach out telling us to go experience Daytona Bike Week, and the time has come! We're not typically rally guys but we've been going to Sturgis for a number of years so it was time to try out a new experience.

Although we would have loved to ride out to Florida and back, we weren't able to leave the shop for that long so we hopped on a flight with Lance and Juan from Thrashin' and made our way to Daytona Beach!
For the duration of the rally, we would be riding a mix of 2023 Harley-Davidsons including the 120th Anniversary CVO Limited and Street Glide Special as well as a Road King Special, Low Rider ST, and Street Glide ST. Our good friend Matt picked us up from the airport and brought us to the Daytona International Speedway to grab the bikes, then we cruised on over to roll through Main Street to see what it was all about! The area definitely had a different vibe from that of Sturgis, but lively to say the least!
We brought the bikes to our AirBnB inside The Wyndham Hotel in town then walked down to go find us some dinner! Matt decided to take us to one of his favorite spots in town, the Daytona Taproom which has some crazy burgers like "thee man vs. food" which has a 1lb beef patty, bacon, onion straws, fries, jam, chili, egg, and more...all layered between 3 grilled cheese sandwiches! Needless to say, we enjoyed some big 'ol greasy burgers, then headed into town to check out some bars! We had a great time seeing new friends and old, and it was a great night to kickstart our time in Florida! 
Focus on the Journey
Gearing up for long trips can be rough, but we've got you covered! Check out our catalog of products and feel free to reach out with any questions!