Posted on March 21 2023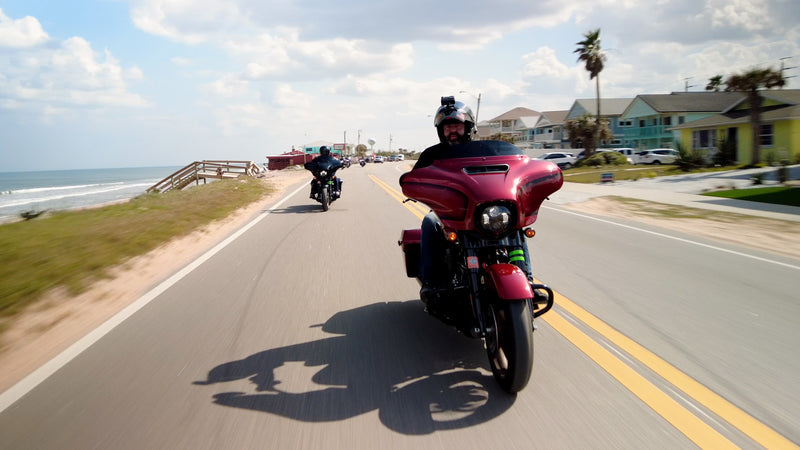 2LaneLife
Two moto-vloggers passionate about traveling and the open road.
Day 2 in Daytona and the good times were just getting started! We got settled in the night before and checked out Main Street, but day 2 would be filled with riding, good eats, history, and coastal views! We were excited to see some of the popular spots along the way and see what the area had to offer!
We started off on the 'Daytona Loop' which is one of the most popular rides in the area. With some oceanfront views, overhanging trees, bridges, and some interesting architecture along the way, it made for a great way to start our day of riding before getting on to the famous A1A which runs along the historic Florida coast towards St. Augustine.
We had the privilege to all be riding various 2023 Harley-Davidson model year bikes, so it was pretty dang cool seeing all the different bikes in the crew ripping around the Florida Coast! While there weren't exactly a ton of curves or high speed riding, it was nice to just cruise and soak in all of the view along the way, which are very different from what we're used to in the west!
After exploring some of the swamp land, we got out to the coast and made a stop along Flagler Beach for lunch at High Tides at Snack Jack   for some good eats and oceanfront views! We had to get some alligator with lunch to check it off the list of things to do in Florida, so we got some gator tacos along with some ahi tuna, chicken wings, and all sorts of appetizers and it made for a great pit stop in paradise! 
We got back on A1A and made our way north about 30 miles into St. Augustine, which was quite the change of scenery! "Founded in 1565, St. Augustine is the oldest continuously occupied settlement of European and African-American origin in the United States. Forty-two years before the English colonized Jamestown and fifty-five years before the Pilgrims landed at Plymouth Rock, the Spanish established at St. Augustine this nation's first enduring settlement. The architectural legacy of the city's past is much younger, testimony to the impermanent quality of the earliest structures and to St. Augustine's troubled history. Only the venerable Castillo de San Marcos, completed in the late seventeenth century, survived destruction of the city by invading British forces in 1702."
Given the rich history of Castillo de San Marcos, it was at the top of our list of historic stops for the trip! "Built by the Spanish in St. Augustine to defend Florida and the Atlantic trade route, Castillo de San Marcos National Monument preserves the oldest masonry fortification in the continental United States and interprets more than 450 years of cultural intersections." 
We've seen some incredible history along our travels, but this was one of the most profound landmarks we've seen to date as it represents so much of our country's early history! The fort was truly spectacular, but the surrounding architecture and feel of downtown St. Augustine was a close second and it definitely made the list of cities we'd like to revisit!
Before hitting the road back to Daytona Beach, we checked out the downtown, got some coffee, then took the faster highway route home for a nice hour ride into town. We got cleaned up then walked into town and ended up at Ocean Deck for dinner which was a block or two over from Main Street right on the coast. With some steaks, fish, tacos, and celebratory drinks, it made for a great way to end the day in good company! We may or may not have had a late night the day before, but it wasn't gonna stop us from checking out Main Street again, so we strolled into town after dinner and enjoyed some night life before calling it a night to get ready for some more adventures on day 3!
Focus on the Journey
Gearing up for long trips can be rough, but we've got you covered! Check out our catalog of products and feel free to reach out with any questions!