Posted on February 27 2023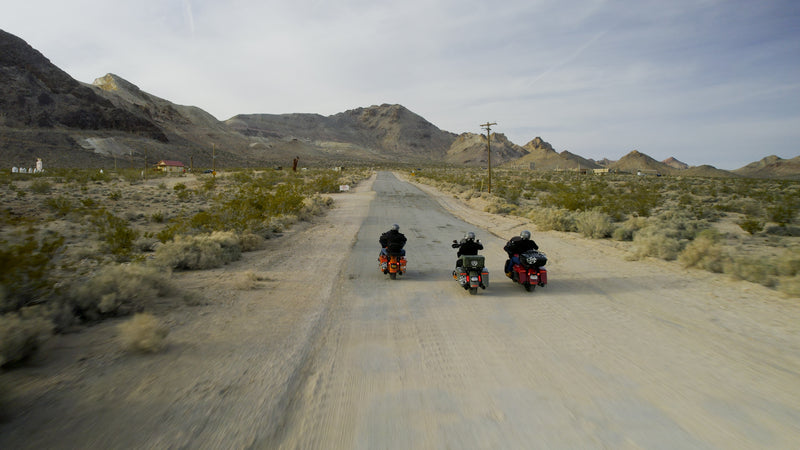 Nevada's Gateway to Death Valley
2LaneLife
Two moto-vloggers passionate about traveling and the open road.
While our time on the Loneliest Road in America has come to an end, we still had two full days of riding to go, and there would be tons to see along the way. This would be one of our easiest days of riding throughout the trip as we only had about 270 miles to cover and the temperature was starting to climb above the previous day's frozen climate.
We started out the day in Fallon, Nevada which was populated during the California Gold Rush as multiple would-be Forty-niners stopped after crossing the Carson River. Fallon was technically our final stop on our travels on US50, although the 50 continues on to Carson City, Nevada. 
Most of the day's riding was on US95 which took us through small towns, vast desert landscapes, and seemingly endless stretches of smooth desert roads. One of the best views of the day was of Walker Lake, which is a natural lake in the Great Basin in western Nevada. Walker Lake and the surrounding area play a significant social and cultural role for many Northern Paiutes whose ancestors inhabited the area around the lake and depended on the lake's fish and bird populations for food. Throughout the 20th century, Walker Lake supported over 50% of the economy of Mineral County through tourism and recreation. From fishing derbies to boat races, water skiing to an annual Loon Festival, the lake was a key part of Mineral County and Walker River Paiute communities.
Although there are a handful of historic and recreational stops along the way, we wanted to make it to Beatty before sundown in order to go to Rhyolite, so we twisted the throttle and burned over as quick as possible while still enjoying the ride. We had a quick gas and food stop in Tonopah then pulled into Beatty around 3:30pm after our final stretch with plenty of time to spare. 
Rhyolite was one of the first places we filmed in our very first "2LaneLife" trip, so it's always cool being back there and learning more about it. 
"Rhyolite is a ghost town in Nye County, in the U.S. state of Nevada. It is in the Bullfrog Hills, about 120 miles northwest of Las Vegas, near the eastern boundary of Death Valley National Park. The town began in early 1905 as one of several mining camps that sprang up after a prospecting discovery in the surrounding hills. During an ensuing gold rush, thousands of gold-seekers, developers, miners and service providers flocked to the Bullfrog Mining District. Many settled in Rhyolite, which lay in a sheltered desert basin near the region's biggest producer, the Montgomery Shoshone Mine. Rhyolite declined almost as rapidly as it rose. After the richest ore was exhausted, production fell. The 1906 San Francisco earthquake and the financial panic of 1907 made it more difficult to raise development capital. In 1908, investors in the Montgomery Shoshone Mine, concerned that it was overvalued, ordered an independent study. When the study's findings proved unfavorable, the company's stock value crashed, further restricting funding. After 1920, Rhyolite and its ruins became a tourist attraction and a setting for motion pictures. Most of its buildings crumbled, were salvaged for building materials, or were moved to nearby Beatty or other towns, although the railway depot and a house made chiefly of empty bottles were repaired and preserved."
After checking out Rhyolite, we headed back into town and hit up one of our favorite BBQ joints, Smokin' Jay's BBQ! If you're ever in the area, this is hands down the best BBQ we've had in most of our travels across the country. Slow-smoked meats, jalapeno mac & cheese, gourmet sausages, and fall-off-the-bone meats made for a killer meal before walking across the street for some cold beverages before calling it a night.
It was another day in the books and we were excited to ride through Death Valley National Park the following day, so we rested up and got ready for the next adventure!
Focus on the Journey
Gearing up for long trips can be rough, but we've got you covered! Check out our catalog of products and feel free to reach out with any questions!