Posted on February 20 2023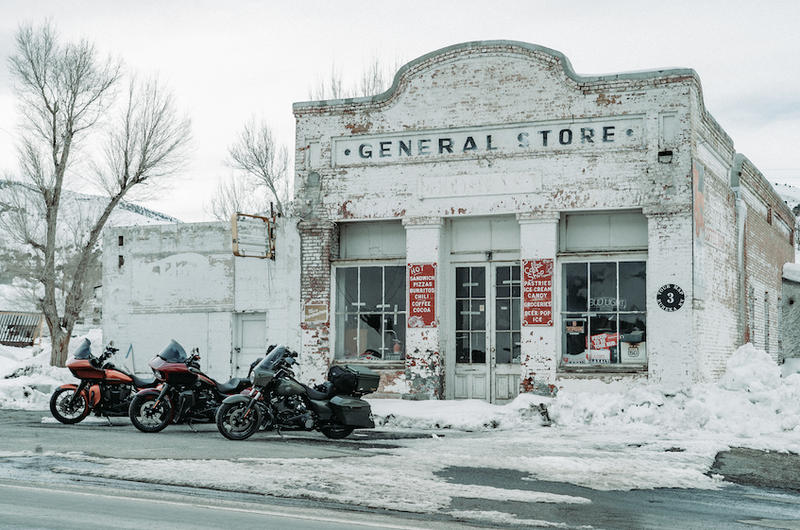 Riding the Loneliest Road in America!
2LaneLife
Two moto-vloggers passionate about traveling and the open road.
With a full day of riding under our belts to get to Ely, Nevada we were officially at the start of our journey on the Loneliest Road in America. The ride from Ely to Fallon is only about 260 miles, which could be done in 4-5 hours, but there are lots of iconic stops along the way. It was definitely an interesting feeling knowing we'd be on the same road for the entire duration of the day. While there were subtle differences in scenery along the way, one thing was constant...our surroundings were completely covered in snow!
We got on the road late morning, checked out some history in Ely's historic district, then began to stack some miles with the first goal of making it to Eureka, Nevada for lunch. While the morning temps were floating between 30-35 degrees, it felt quite a bit warmer than our ride in the night before at a bone chilling 15 degrees, so we threw on a few extra layers and enjoyed the ride.
We pulled into Eureka just before 2pm, cruised through the town, snapped some pics by an old building, then strolled into Clementine's Restaurant for lunch. There were a handful of restaurants open, but this one caught our eye and we ended up meeting some great people in there and learning some neat local history. 
We spent most of the day on the bikes with a few stops to film and fill up the tanks, one of which was the neat little town of Austin. We rode into town just after 4pm, threw on an extra layer, spoke with a couple locals, then got back to it. As the sun began to go down, we had just over an hour of light and we knew we were in for an incredible sunset!
Just as we entered Fallon a few minutes after 5, we were met with the combination of golden light, snowy views atop the distant mountains, and the cool crisp desert air, and it was truly something else. After seeing bright white views all day, this explosion of color was a not so subtle reminder of why we do what we do. You don't see this kind of beauty unless you get out on the road!
We pulled into Fallon just after dark, found our night's stay at the local Best Western, then walked down the boulevard for some good eats at The Grid, which ended up having some pretty killer food with craft beers to match!
Overall, it was a phenomenal day of riding and something different than we're used to. Sights of towns and fellow travelers were few and far between and it's no mystery why they call it the Loneliest Roa in America. Despite the name, we found beauty all around and really enjoyed being out in "the middle of nowhere" to enjoy some solitude and freedom on the open road.
We were expecting some pretty serious weather on the final stretch of Highway 50 into Carson, so we decided to re-route and finish the trip by exploring Death Valley! Luckily either way, we still had plenty of miles to cover and good times to be had, so we let the good times keep rolling!
See ya down the road!
Focus on the Journey
Gearing up for long trips can be rough, but we've got you covered! Check out our catalog of products and feel free to reach out with any questions!