Posted on February 09 2021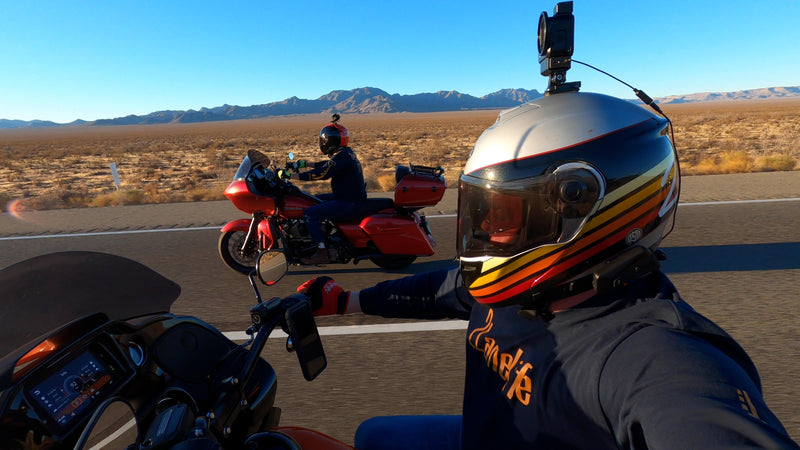 2LaneLife
Two moto-vloggers passionate about traveling and the open road.
It's the last day of our run through Arizona, and we've got plenty more to see! In the past few days, we were able to see some familiar places, and a whole lot of new stuff too! From Tortilla Flat and the Apache Trail to highway 60 through the Salt River Canyon, every mile was better than the last! We've been to Arizona countless times and seen many places multiple times, but even then, there's always something unique!
Rolling into town the night before, we hit temperatures as low as 24 degrees, and the morning was no different. Walking to breakfast bright and early, it was around 22 degrees, and we couldn't wait to get a hot breakfast and some coffee down, at one of our favorite breakfast spots, the Grand Canyon Coffee & Cafe, also known as Anna's Canyon Cafe. It's now our main breakfast stop when we're there! Great food, right off the strip, and a really friendly staff. Always a great time.
We walked back to the hotel, layered up for the ride, and got on the road! Luckily, it started to warm up as we got out of Williams and we were able to put some miles down in great conditions. For the most part, we took the 40 all of the way into Havasu City where we would get on the 95 to take us into town. 
On the stretch of road in, we saw boats and trailers, side-by-sides all over the roads, and great views of large rock structures and mountains, with the gleaming reflection of the water off in the distance. It was great to see all of the bikes out as well, even a few small groups of riders! 
Pulling into town, our first destination was to see the London Bridge! Originally constructed in the 1830's spanning the River Thames in London, it was dismantled in 1967 and relocated to Arizona. London sold the bridge as it was no longer capable of supporting increased traffic load of the busy city. The original exterior masonry was purchased by Robert P. McCulloch from the City of London, and all of the original blocks were numbered and transported to Havasu City. Even to this day, if you check out the bricks, you can make out the numbers marked on the outside throughout the bridge. It's pretty crazy to see it reconstructed and think that it had traveled across the world to make it all of the way to Arizona!
McCulloch's plan was to build a community around the bridge and bring in interested tourists and retirement home buyers to the area. The original land that the city now lays in was initially deserted and was eventually given to the state of Arizona by the U.S. government. Before the purchase and reconstruction of the bridge McCulloch made a deal with the state government and received the property for free with a promise to develop the land. There was little interest from real estate investors to fund the project as the location was far away from centers of population and had a very hot and dry climate. After the bridge was reconstructed, potential land buyers visited the bridge and took a tour of properties for sale, which eventually paid off. In recent years, the area has gained popularity and it's now a popular getaway!

While crossing the bridge, we noticed the Barley Brothers Brewery and decided to check it out! The restaurant had a great view of the Colorado River and some tasty food to go with it. While we were settling in, we were surprised to meet a couple, Aaron and Brittney who recognized us from YouTube and decided to say what's up! Aaron had recently purchased a 2020 Road Glide Special, and the two of them have been able to get out and do some awesome riding! It's always great meeting fellow riders, and to meet people who follow our travels from all over the world is always a humbling experience. We had some great conversation, shared some stories, then got ourselves some grub!
They had quite the menu, and despite craving burgers all day, 2/3 of us decided to switch things up! Josh got a lobster cobb salad that was hard to pass up on, Lance got a nice spinach salad, and Big G stuck with his instinct and grabbed a nice juicy burger!
We hung out for a bit, then walked down to the water to check out the boats passing by and get a nice view of the bridge! We saw some speedboats, jet skis, and even a floating bar with a little motor on it! After that one, we think this will be a great place to come back to! Despite not being on the 2Lanes and being on the 40 most of the day, it was great to be able to see a lively town off of the beaten path with some neat history behind it. 
We got back on the bikes after a quick history lesson from Gaylin, and cruised back up the 95 on the way back to the 40. We counted up some more miles, had a good time chatting on our
intercoms
, and had plenty of time on open roads until we started seeing brake lights...
We weren't sure what was going on at first, but once we reached the other side of the hill, we could see standstill traffic with hundreds of semi trucks and cars as far as the eye could see. We stopped and talked to a family that was. outside of their car, and they said it had been stopped for hours! With huge trucks everywhere and cars trying to constantly switch lanes, we decided staying on the road may not have been the safest option to continue on our way, so we hopped on the emergency lane just wide enough for our bikes and safely cruised down the interstate. While not recommended, we did eventually reach the end of the 15+ mile line of cars to see multiple truck wrecks and emergency response teams all around. One trailer was completely smashed and caved in, another had some damage and was getting towed, and a third was half on the road and half in the dirt! 
It was definitely a sight to see, and we hope everyone involved made it out okay. Luckily, we were waived by with no issues, and got back on our way towards Ludlow. Long story short, we missed the only exit for Ludlow, and despite being low on gas, we decided to go another 30 or so miles to fill up in Newberry Springs, CA. This is where we took our last shots filming the trip, but we still hd another 175 miles to get back home. Being that it was all highways the rest of the way, we made decent time with minimal stops of the last stretch and had a great time in the process! It's always a bittersweet feeling at the end of such a great journey, but we were grateful for the good times had, and the extra miles on the odometer as always!
Now these are some roads you won't want to miss! Whether you're on two wheels or four, this is an amazing journey, and we had a lot of fun on the road. Always be wear of changing conditions, and travel safely!
*2LaneLife is not responsible for peril**
With another extended weekend trip under our belts, we were glad to have made it home same and get back to business before getting back out there! Doing these 4-6 day rides and exploring all over various states has become on of our favorite ways of traveling on two wheels and we're always excited to see how everything comes out when it comes time to share it with the world. We feel like doing these series style episodes and breaking the traveling up in sections has made for a great way to not only share the videos, but make these mapped out rides accessible and doable for our viewers! We love hearing stories from friends who have checked out the maps and explored the rides, and it inspires us to keep them coming! We hope everyone enjoyed this Arizona series, and it definitely won't be our last! Up next...Nevada!
See ya down the road...
Stay safe...stay inspired 

-2LaneLife

Focus on the Journey
Gearing up for long trips can be rough, but we've got you covered! Check out our catalog of products and feel free to reach out with any questions!