Posted on February 03 2021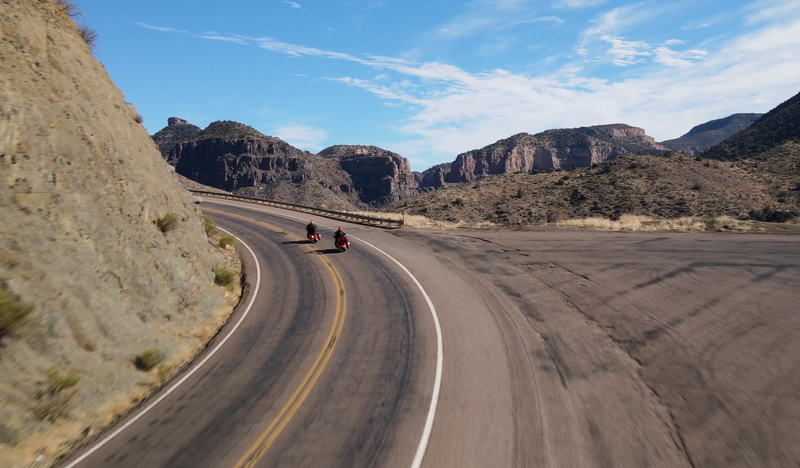 Exploring the Salt River Canyon & More! 
2LaneLife
Two moto-vloggers passionate about traveling and the open road.
Day 3 of our journey all throughout the beautiful state of Arizona, and we couldn't get enough! Every day there was something new, whether it be neat history in small towns like Globe, awesome rock structures backed by sunsets through Pine, or even just the locals who flash a smile and a nod walking through town. These experiences aren't made by laying low, you just have to get out and make them happen!
After a great night Checking out Chandler, we got up early, had a quick hotel breakfast, and got on the road on our way to see the neat little town of Globe, Arizona. We were out stacking up miles on the Superstition Highway, better known as the US60, which will take you quite a long way! As we passed through the town of Superior, we approached massive rock structures entering up through the mountains, which made for a pretty gnarly view!
With colorful red and tan rocks surrounded by pines, we were glad to be out there cruising the 2Lanes with nothing but the journey in mind. As we had initially planned to go a different direction, we hadn't done much research on the route, but we trusted what our new friends had to say, and we weren't disappointed!
We hit some bridges, rolled through some cool tunnels, and rode right beside rock structures that would blow your mind! 
A few throttle pulls later, we pulled into the town of Globe under a cool bridge in the historic downtown district. Founded in 1876, and originated as a mining camp at Ramboz Peak after the discovery of silver deposits a year prior. the town was named for a globe-shaped piece of high-grade silver, but they owe their economic development to the massive amounts of copper found just beneath the silver.
Nowadays, there is about 3,800 residents in the area, and the town is full of historic saloons, churches, and many other building and businesses. 
We got a little lost getting out of town, but that just meant we got to take one extra pass through the historic district, so why not! After Globe, our next stop was the town of Show Low, that our new buddy Dale recommended we check out. 
While we were excited to check out Show Low, we were also eager to see the Salt River Canyon on our way over. Not long after leaving Globe, the 60 took us through there, and it was really something else. Riding up into the hilltops and down through the canyon through winding hairpins, flowing turns, and a bridge right over the river, we got to see some awe-inspiring sites that made us grateful to have changed our route!
Being able to travel the whole day all on the 2Lanes, and see incredible sights sights like this was an experience we'll never forget. Just 3 friends, 6 wheels, and views that just kept getting better and better. What more could yo ask for?
We got some great shots, enjoyed the diverse and ever-changing landscape, and eventually landed in Show Low, where we would have a quick lunch before heading out to Payson, and eventually Williams for he night. 
We hopped on the 260, which would essentially be the last main road that we would be on for the day, and it took us through some really awesome places. Starting out in the valleys, with small rolling hills, we gained some decent elevation, and eventually wound up at over 7,500 feet, overlooking a sea of pines and vibrant layers of distant mountain ranges. 
We took in the scenery, had some great conversations, and dropped down to just under 6,000 feet elevation before coming into Payson. We pulled into a local bar and got some bomb chicken wings and a couple of tasty beverages before our last leg of the day on our way to Williams!
Shortly after leaving town, we were on the scenic 87A highway, and we continued to be blown away by our surroundings! Coming down into the canyon, the sun was just peaking over the hills to our left and it seemed like that was the last of the daylight, but just a short conversation down the road, we turned the corner through the hills, and got to see one of the best sunsets we've ever seen! With tall trees on all sides, vast shadows casted by the surrounding  mountains, and the various colors of rock throughout, we were grateful to be able to ride through there at such a perfect time.
The temperature was dropping and there were a few cars on the road, but none of that matters when you get to see something as epic as that. The sun slowly set, and even after nightfall, we were met with glowing purple and blue skies on seemingly empty roads through the hills. Despite that introduction, there really are no words that can accurately describe the feeling we got riding through there. The sense of gratitude, the feeling of peace, and the camaraderie among friends that have now become family, are all aspects of this lifestyle and these trips that are rarely spoken on. For those that have ben fortunate enough to experience this, you know what we mean by that, and for those that haven't we suggest giving it a try when the time is right.
As we hopped on the 40 to bolt towards Williams, we were riding through temperatures as cold as 24 degrees, and a nice warm meal was sounding better by the mile. We finally landed in Williams, checked into the Royal American Inn, and cruised down the street to one of our favorite restaurants in the area, the Station 66 Italian Bistro! Lance got his second round of wings, Josh got some good 'ol spaghetti and meatballs, Gaylin had some delicious tuscan soup, and we all shared a great pizza! We enjoyed some drinks at the bistro and one of our favorite bars down the road, and reflected on another great day of riding on what turned out to be a trip with new plans every day.
Some cool things can happen on the road, but you won't know until you go!
Now these are some roads you won't want to miss! Whether you're on two wheels or four, this is an amazing journey, and we had a lot of fun on the road. Always be wear of changing conditions, and travel safely!
*2LaneLife is not responsible for peril**
We hit some warm weather, some below freezing temperatures, and explored canyons and mountain tops alike, and it was a day of riding that we'll appreciate 'til the wheels fall off. Making trips like this happen has changed the way we look at traveling, and we'd have it no other way...
See ya down the road...
Stay safe...stay inspired 

-2LaneLife

Focus on the Journey
Gearing up for long trips can be rough, but we've got you covered! Check out our catalog of products and feel free to reach out with any questions!