Posted on January 28 2021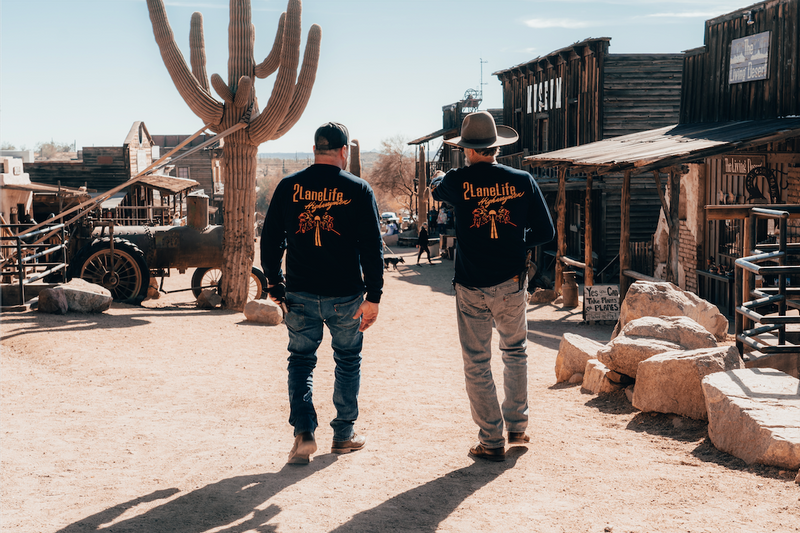 2LaneLife
Two moto-vloggers passionate about traveling and the open road.
It may seem like we're in Arizona a lot, and we may be, but it's for a good reason! There is so much diversity in that state, and with that comes new experiences. Despite riding through Arizona countless times, we are always able to see something new and this trip was no different. We had initially planned to ride out and explore Mount Lemmon and the surrounding areas, but our plans soon changed as we got some suggestions from a follower and met new people while on the road. As much as it's great to have a plan for a trip, it's just as enjoyable to just go with the flow and see where the road takes you, and that's just what we did.
On the first day into our journey, we started out at the 2LaneLife headquarters in Canoga Park California, with the goal of reaching Prescott Arizona to explore the town and spend the night. If you haven't been to Prescott before, it's definitely worth checking out. There are tons of restaurants and bars, and the town has some awesome history that the locals love to share.
We rolled into town just after nightfall, and decided to stop by one of our favorite spots for dinner, called The Palace. Located right on Whiskey Row, and named one of the top ten historic bars in America, it was a great place to end a solid day of riding and enjoy some tasty steaks! The Palace is still the oldest frontier saloon in Arizona and the most well-known and historic restaurant and saloon in the state.  In the late 1870s, Wyatt Earp, Virgil Earp and Doc Holliday were frequent Patrons! In 1900, The Palace was destroyed during the famous Whiskey Row fire, but they were rebuilt and back in business by 1901! These are the kinds of places you see when getting off the beaten path, and you learn something new every time!
We had some dinner, enjoyed some tasty beverages, and strolled the town for a bit, only to find ourselves winding down by the historic Prescott City Hall. Now, we usually like a nice warm hotel room, but the cold, crisp concrete steps of the town center looked as inviting as ever, and we may have caught some Z's there while Josh headed over to the famous Hotel St. Michael to get an actual night's rest...
After a long night, we all met up bright and early at the Lone Spur Cafe to gather ourselves, have some coffee and a good 'ol classic breakfast, and get some plans together for another long day of riding. Just like The Palace, the Lone Spur has some deep-rooted history and we heard some great stories from our server, who's family has lived in Prescott for seven generations! 
We packed up the bikes, gassed up, and headed out of town on the 89, which would take us to highway 69 on our way towards Phoenix. After getting out of town, the roads started to open up, and we were met with inspiring views of golden plains and vibrant rolling hills. As we cruised long, the landscape continued to change, and after what felt like only a few short miles, we crossed into Phoenix, where we would get onto the 88 and head towards Apache Junction. One of our followers and now friend, Zach O'Dell had suggested that we check out the Goldfield Ghost town, so we headed that direction to check out some neat history!
As we approached, we were met with crazy looking mountains and jagged rock structures towering over us in the distance, and it was really cool to see all of these changes in topography happening right before our eyes. We pulled into the town, hopped off the bikes, and took a stroll through the strip so see all of the interesting spots within. 
The town originally arose in 1892, with as many as 28 buildings, and a community of over 4,000 people, built around the local mines. Just five years later, after prospectors had dug out all of the gold, the population nearly disappeared, and Goldfield went dark. In 1943, around 60% of the town burned down after an accidental fire, and it eventually died out. The town was purchased by a man by the name of Bob Schoose, who rebuilt the buildings and recreated the town as a tourist attraction to display the history of the area. There are ow restaurants, saloons, shops, a museum, and even a church!
We headed on down to the Goldfield Saloon for some lunch before heading over to...well, we actually didn't know at the time. We talked with so of the locals about the history and eventually decided to ditch our plans of heading to Mount Lemmon afterwards, and made plans to ride out to the small town of Tortilla Flat just 20 miles down the road. We figured since we were so close, we might as well check it out, and get to ride the winding desert roads down there. 
So far, we had mostly experienced long, open stretches of 2Lanes with some larger highways in between, but continuing on the 88 into the Superstition Mountains led us through some awesome curves up into the mountains and down through the canyons. The ride reminded us a lot of the roads leading into Oatman, just ripping the 2Lanes up and around desert mountains with views all around. After descending into the canyon, we passed by Canyon Lake which seemed to come out of nowhere. The glassy reflection of the lake was a unique site to see in the middle of the desert, and as the sun came down, we were surrounded by some awesome golden light.
We rode over some bridges, climbed back up through hills, and continued to wind around until we reached the small town of Tortilla Flat, which is really only made up of a couple of small structures.  Located in Northeast Apache Junction, Tortilla Flat has a population of 6, and was originally a camping ground for the prospectors who searched for gold in the Superstition Mountains in the mid-to-late 1900's. It got its start because of the construction of the Roosevelt Dam in 1904, as there was a need for a stagecoach stop for freight haulers on their way to the construction site. Shortly following the construction of the road, Roosevelt Dam became a popular tourist attraction, and became a stage stop for tourists and mail carriers through the 1930s.
We ended up meeting a guy named Dale while getting drinks at the Superstition Saloon, who ended up being one of the owners, and he shared lots of knowledge and history with us. As we got to talking, we discovered that he rides as well, and he ended up making a route for us to follow the next day. We completely scrapped our original plans and decided to take his route through Salt River Canyon, as we would not only be able to see some amazing scenery, but we would be able to stick to the 2Lanes and avoid a long jaunt on the freeways. He invited us to come with him back to Gilbert, AZ to check out his other restaurant called The Union Grill & Tap, where we had some killer food, and drinks to match! It was cool to get that amazing hospitality and be able to get a tour of those areas from Dale! That's just how it goes when you're on the road and spark up conversations with good people along the way. You never know what you'll get, but you won't know until ya go!
The surrounding hotels were all booked up, so we took a short ride out to Chanler to stay at the Hilton Garden Inn, which was a great stay, and had various restaurants and breweries nearby. For winging most of the day, we had a damn good time, and we were glad to have switched things up. It was another great day of riding, and we still had plenty more to see!
So this time, we got some rest in a real bed, and prepared for another epic day to come...
Now these are some roads you won't want to miss! Whether you're on two wheels or four, this is an amazing journey, and we had a lot of fun on the road. Always be wear of changing conditions, and travel safely!
*2LaneLife is not responsible for peril**
So far, it was an amazing trip through the diverse state of Arizona, and we couldn't wait to check out the route the following day. Just another great day in the books, and we're excited as always to be able to share these experiences with you guys!!
See ya down the road...
Stay safe...stay inspired 

-2LaneLife

Focus on the Journey
Gearing up for long trips can be rough, but we've got you covered! Check out our catalog of products and feel free to reach out with any questions!