Posted on February 17 2021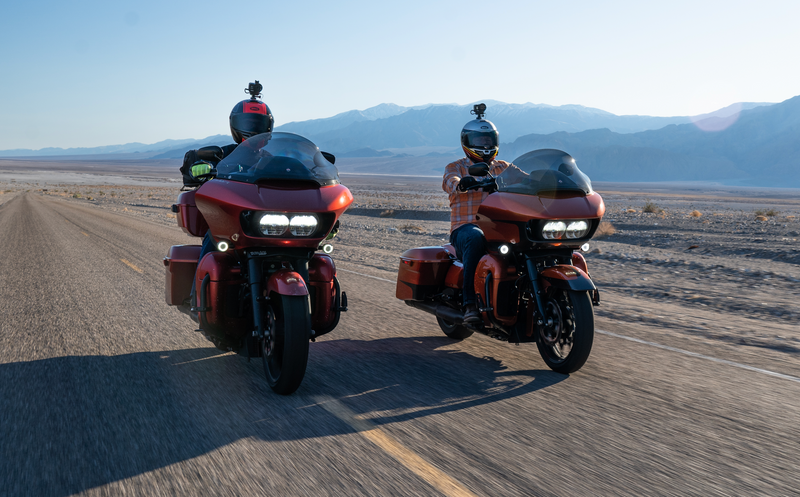 2LaneLife
Two moto-vloggers passionate about traveling and the open road.
If you're looking for an insanely beautiful and diverse area off of the beaten path, Death Valley is just that. With all of our travels in the past few months, a handful have been to distinct cities or smaller landmarks, but making plans to se Death Valley and the surrounding areas opened up the horizon for the kinds of things we could see and share with everyone. Spanning over 5,000 square miles, there is a seemingly endless list of attractions throughout, and one could easily spend a week checking out the area. With places like Zabriskie Point, Stovepipe Wells, Mesquite Flat Sand Dunes, Badwater Basin, the Painter's Palette, and so much more, there is tons of neat history to see.
We started out our journey at the 2Lane HQ in Canoga Park, CA and got on the road around 11 a.m. with the goal of reaching Beatty Nevada by nightfall. On the way out of town, we hit an hour or two of consistent rain, but by the time we got out into the high desert, it had dried up and we were soon riding through some chilly temps with snow right on the side of the freeway!
We had some great miles slowly warming up on the highway, and eventually ran through Vegas and ended up in Boulder City, Nevada around 4pm. We had plans to meet a friend out there, so we grabbed a little grub and some drinks and hung out there for a while. When we were ready to head out, we figured we'd get some aerial shots of the town before the sun went down, and it didn't quite go as planned...
While we got the shots, "Gilbert" had a forced landing a ways away from the brewery, so Josh went to go hop on his bike to go retrieve him. The problem is, when you don't have the key to your bike, it can be pretty hard to start, and you guessed it...Josh had unknowingly lost his keys at some point before rolling into Boulder City. Long story short, we all searched around for a while and eventually found "Gilbert" safe and sound but by the time we did, it was dark and we were hungry, tired, and short on time. 
We eventually decided to spend the night in Boulder City and make it to Beatty the next day, and we were glad we did! We ended up meeting some great people while we were out getting dinner, and had an amazing night and morning because of it. We met Kai and Lindsey, who happened to own the world famous Coffee Cup Cafe, which our friend had recommended to us the day before, and they invited us over there the next morning to take a tour and grab some delicious breakfast!
We stayed the night at the Boulder Dam Hotel, which was a historic hotel in the area that had a really cool vibe to it. After a solid night's rest, we got up early and headed over to the Coffee Cup Cafe to meet Kai and Lindsey. They pulled up in style on Kai's customized Road Glide then we headed on in for breakfast! A local family owned favorite, the Cafe has a great menu with some twists on traditional breakfast dishes, and has even been featured on "Diners, Drive-Ins and Dives!".  
We had some killer food, and some of us even went with Guy Fieri's favorite, the Papa Con Chili Verde, which was some delicious hash browns smothered in pork chili verde and cheddar cheese with some goodies on the side! 
After breakfast, we got a great tour of the restaurant, and got to learn a lot about how the place came to be. It was awesome to see how many similarities we all had, and being able to hear their stories and see all of the great pictures and memories all over the walls of the restaurant was an inspiring experience. We said our goodbyes, then hopped on the bikes to head out to Death Valley!
About 130 miles away, after some great riding through a little snow, as well as some pines and open plains, we ended up on Highway 190, which took us in to the National Park. We stopped at the sign for a quick picture, then headed on in, with our first stop being Zabriskie Point. The point is located on the eat side of Death Valley within the national park, as is an eroded landscape composed of sediments from Furnace Creek Lake, which dried up 5 million years ago! With layered hills that travel far into the distance, you get a great view of the valley with all kinds of different mountain and rock structures on all sides. After stopping to check it out and getting some interesting history from the wealth of knowledge we call Gaylin, we got back out on the 2Lanes and headed to our next stop, the Artist's Palette!
The roads through there were simply amazing. Sure, the quality of pavement was great, but we're talking about the views that go along with it! With vibrant blue skies and layered shadows within the mountains, the views ahead just kept getting better and better. After heading down Badwater Road for a while, we reached the turn-off for the Artist's Palette, which was a one lane road up through narrow rock canyons all of the way up to the viewpoint. The rich colors within the mountainside are caused by metal oxidization and makes for one of the most unique landmarks in all of Death Valley! Not to mention, Artist's Drive, the loop that takes you through there is quite the experience as well! On the way out, we got to ride through a tight and twisty canyon through a gulley, with the sun peaking just over the top of the rocks. Out of all of the spots we've seen in the area, this was one of our favorites, so if you get the chance to see it, go check it out!
As we would be back in the park the next day, we headed out and made our way towards Beatty where we would be spending the night, but we had one last stop on the way, Rhyolite Ghost Town. We had been there before, but we wanted to show Josh around, and it was still a great historic spot to see again! 
This interesting boomtown sprung to life after a couple of prospectors discovered high-grade ore in 1905. After uncovering gold in this region, several mining camps including Rhyolite popped up which later became known as the Bullfrog Mining District. What originally started as a two-tent mining camp soon boomed to an estimated 5,000 people within six short months. Long story short (literally), as the high -grade ore began to diminish, so did the livelihood of the town. Just a few short years after the town had boomed, it began to shut down, and it was eventually deserted by 1919. What's left of the old brick buildings still remain in the town, and it makes for quite the western feel especially during sunset!

We walked around and checked things out, then rode our last stretch of road for the day on our way into Beatty. We've been to Beatty numerous times, and have always stayed at the Exchange Club Motel which was nothing special before, but has since been remodeled and was actually a great stay. 
While there's not a lot in the town, we do have our favorite places to eat and drink at, like the Happy Burro Chili & Beer, a tiny bar across the street the size of a small bedroom. It's a great little spot with cheap drinks and some cool decorations, and the location right near the hotel is hard to beat.
We had also heard about a new barbecue joint that had recently popped up called Smokin' J's BBQ, so we decided to check that out and we're glad we did! It's ran by J himself, who had been smoking meats in town for years, but didn't have his own restaurant until now. We got to talking with him and heard about how he got into the business, and ended up being a great dude! All of the meats are prepared and smoked in-house, and we were definitely impressed with the food. We got some ribs, brisket, pulled pork burgers, jalapeno mac, and some other classics, and it did not disappoint! We'll definitely be back there soon and that will be our go-to spot whenever we're in town!
Now these are some roads you won't want to miss! Whether you're on two wheels or four, this is an amazing journey, and we had a lot of fun on the road. Always be wear of changing conditions, and travel safely! 
(This is the map from our whole Death Valley Loop
*2LaneLife is not responsible for peril**
With some great times down and plenty more to go on this trip, it was great to have seen want we did, and take it as it went. If Gilbert didn't get lost, we wouldn't have stayed in Boulder City and met Kai and Lindsay and get to experience everything that followed. Sometimes you just have to go with the flow and see where it takes you, which is usually somewhere great! Anyway, we hope you enjoyed the first leg of our trip, because we sure did. There's plenty more to see in Death Valley, so stay tuned for the next drop!
See ya down the road...
Stay safe...stay inspired 

-2LaneLife

Focus on the Journey
Gearing up for long trips can be rough, but we've got you covered! Check out our catalog of products and feel free to reach out with any questions!