Posted on June 24 2020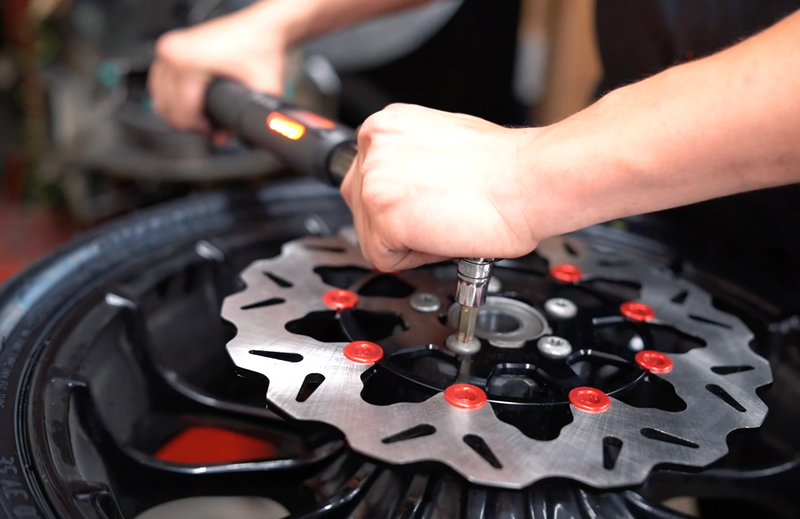 Fresh Rubber & New Rotors!
2LaneLife
Two moto-vloggers passionate about traveling and the open road.
We had a great time as usual, hanging with the guys at Top Rocker Harley and getting some much needed new shoes installed on the bikes! The only thing separating your favorite machine from the road are tires... so you could say they're pretty important, with brakes being a close 2nd. 
 When it comes to tires there are tons of choices, and they are not all created equal. Most Harley and cruiser riders stick with Cruiser/Touring tires, while others on lighter cruiser bikes may opt for Sport-Touring tires. It all depends on your riding style and which kind of bike you're on.
Cruiser / Touring Tires
Most of the time, this is the category of choice for a majority of riders. These tires are designed for the purpose of holding up heavy bikes such as baggers for long distances in a multitude of conditions, including wet weather. The sidewalls are reinforced to handle heavier bikes, they have a deeper tread depth compared to standard tires, and are made of harder compounds. All of this means that they will last longer, and continue to perform for miles to come. We've put many tires to the test, and by far our favorites are the Dunlop American Elite Line.
Sport-Touring Tires
These tires are typically designed for lighter cruiser bikes such as BMW touring models like the 1200RT, or the Yamaha FZ-10 for example. They are a balanced mix between touring and sport-performance tires. While some may not last as long as standard touring tires, they offer great performance and grip when you get extra throttle-happy in the twisties. While use for cruisers on the lighter end of the spectrum such as Dyna's and FXR's is certainly possible, it is important to keep in mind that the sidewalls are not as sturdy as standard cruiser tires.
Although we do not have much personal experience with newer sport-touring tires, we have hear phenomenal things about the Dunlop Sportmax Roadsmart III's. 
Brakes
Just like tires, or any other performance part for that matter, not all rotors are created equal. We're very particular about our brakes, and for good reason. Riding around a 600-900lb machine, or even more with gear and a passenger, means you need the best of the best if you want to stop on a dime...safely. Through our years of riding, whether it be ripping in the canyons or 1,500 mile weekends geared up with passengers and all, we've found that Galfer Rotors offer the best performance with the most reliability. Their design allows them to stay cooler with maximum airflow which allows for consistent, powerful braking. They offer many different options, and we're impressed with each one we've run.
Thank You Top Rocker Harley!
We want to give a huge shoutout to Justin and all of the guys at Top Rocker Harley Davidson in Canoga Park, CA for always having our backs! They have some great service and an amazing crew, and always go the extra mile. Thanks for having us at the shop and helping out with maintenance!
Hopefully you guys enjoyed the video and the blog! We love sharing our experiences with parts and brands that we truly stand behind, and hope that you'll enjoy them as much as we do!
Stay safe...stay inspired!
-2LaneLife
We stand behind all of the products on our site, and want to help you find whats right for you!
Check out our catalog of our favorite products, and feel free to reach out with any questions!