Posted on June 17 2020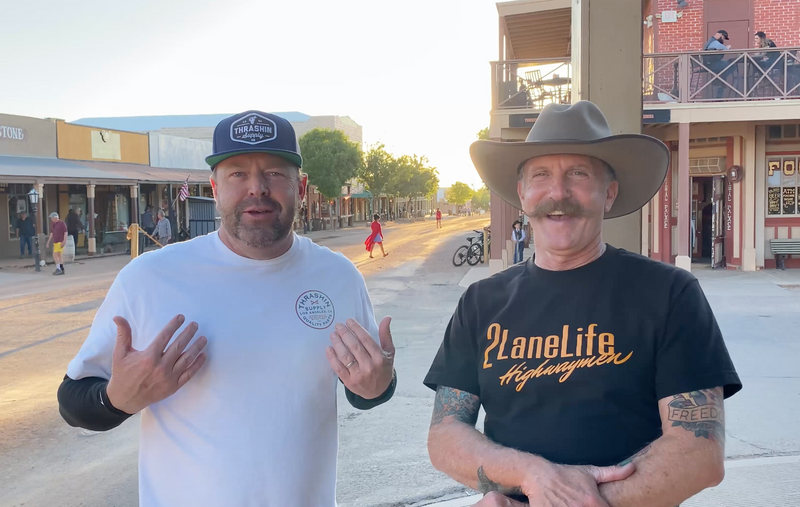 Tombstone, Bisbee, Williams and More!
2LaneLife
Two moto-vloggers passionate about traveling and the open road.
Another weekend, another great ride! We logged some solid miles on this trip and had an all around great time. There's nothing quite like getting on the road with good people, the sound of a roaring M8s, and some killer views to separate yourself from daily life for a couple days. We brought our buddy Rob who you may have seen in previous episodes, and it was his first ride over 300 miles! Definitely a bit longer than he's used to, but we have to get him ready for Sturgis somehow!
If you click on the image of the map, you will find a link to the route that we took, and can take the trip yourself if you choose to do so. Whether it's on a motorcycle or in a car, there's plenty of sites to see, and rich history to learn, so get out there and explore!
**Remember to always stay up to date with road conditions and routes, 2LaneLife is not responsible for peril.                             
Being a longer ride means a nice long list of our favorite spots to eat! While on the road, we usually aim for something relatively quick, but it's always nice to sit down take our time, and unwind over a nice meal at the end of a long day of riding.
The first noteworthy food stop on day #1 was Taqueria Juanitos in Tuscon Arizona. We got too excited and ate the food before taking a pic...but you get the picture.
It has a very authentic feel, with quality food to match. They offer all of the classics as well as a great selection of combo plates and even some specials like ceviche tostadas! Overall, really impressed, and it is definitely one of our favorite Mexican joints so far.
After a long day of riding, we weren't quite sure what to expect as far as which restaurants would be open in Bisbee or how many people would be out. The town was alive and we ended up at one of our favorite spots, Bisbee's Table. They have a classic Americana inspired menu with a twist and have always been one of our favorites when spending time in Bisbee. We definitely recommend checking this place out, they have a friendly staff and a cool vibe going in there as well.
Before heading out on another full day of riding, we had to fuel up at another one of our favorites, the Bisbee Breakfast Club. Located in one of the original brick buildings in Bisbee, it is surrounded by classic cars and motorcycles for a very interesting atmosphere. 
Well known for their diner-style breakfasts, we loaded up on some country-fried steak, eggs, and hash browns, before getting back to the 2Lanes!
While passing through Payson, we pulled off for lunch and stopped at Jake's Corner Bar off of highway 188. They had plenty of bike parking and some indoor and outdoor seating. The burgers really hit the spot and we'll definitely be stopping by again next time around!
We've been to Williams more times than we can count, so we definitely have our favorite spots, and Station 66 Italian Bistro is definitely one of our new favorites. Lance has eaten there a handful of times, but it was Gaylin's first time and he'll be back! 
With the Italian classics, like pizzas, pastas, and salads, you can't go wrong. The food is outstanding, with a great view to match. Definitely recommended!
Before heading home on the last stretch of our journey, we made one last stop for some delicious comfort food at the Pine Country Restaurant for breakfast. With generous portions, hearty food, and fresh coffee, we were all set for the miles to come!
We ended up booking a place to stay our first night fairly last minute, but the Bisbee Inn Hotel La More ended up working out and getting the job done. They were low on rooms but we got there just in time. It wasn't anything fancy, but the rooms were clean and the beds were decently comfortable. There is a lot of history in these old properties, and there was even a few ghost tours going through the halls every couple hours. Overall, for being a last minute stay, it worked out great.
While it was no 5 star hotel, the Celilo Inn in Williams was a pretty good place to stay. It wasn't very busy when we went, so it was quiet and the rooms were clean. The beds were comfortable, or at least it felt like it after getting some miles in! Overall we would definitely sty here again if needed when passing through.
Theres so much to see between Los Angeles and Bisbee, so this trip can definitely be spread out into more than 3 days if need be. Go at your own pace and see what you want to see! Thats what road trips are all about.
Stay safe...stay inspired
For our favorite parts & accessories for our bikes, shop here
We have been running all of the products on our site for years, and for good reason. When it comes to parts, there is no room for sub-par goods, throughout the years we have found what really works for us and we're excited to share these with you.