Posted on June 03 2020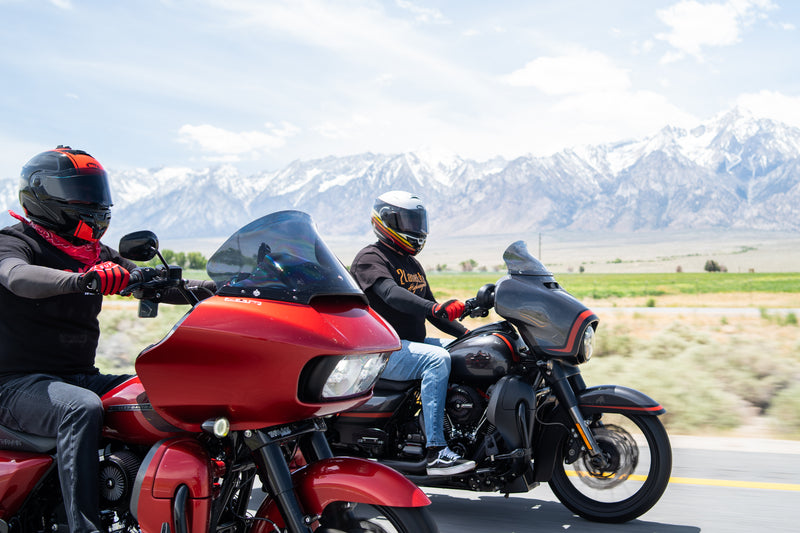 Los Angeles to Virginia City Road Trip
2LaneLife
Two moto-vloggers passionate about traveling and the open road.
What a ride... From the vast open valleys through Mojave, Bishop, and Mammoth to winding hillside roads through South Lake Tahoe, the Sonora Pass, and many others, there was always something new to see. Something great about these longer rides is that you really get to put in the seat time and watch the landscapes change as the miles count up. With the new landscapes comes new weather, and we certainly experienced quite the variation in climates throughout. From the blazing sun of Mojave and the desert lands, to the crisp cool air of Mammoth and Lee Vining, we eventually faced some heavy wind and rain on the Carson Pass through the Sierra Nevada Mountains. The way we look at it, a great ride doesn't necessarily mean a predictable ride. Thats why we always aim to stay prepared for anything that comes our way.
If you click on the image of the map, you will find a link to the route that we took on our scenic ride, and can take the trip yourself if you choose to do so. Whether it's on a motorcycle or in a car, many of these places have breathtaking views and exciting experiences in store. Although the map loop is 970 miles, we took a few detours and adventures along the way, making it a little longer. Enjoy!
**Remember to always stay up to date with road conditions and routes, 2LaneLife is not responsible for peril.                             
Of course we've said it over and over, but there really isn't anything quite like getting out on the open road on 2 wheels with or without a plan, and making an adventure out of it. Theres always new things to see, new things to learn, and new people to meet. We always look forward to getting back out there and hope that we can inspire you to do the same!
It was refreshing to see more eateries opening up, even if eating inside was still not an option. Our first stop about 4 hours into our journey was the Country Kitchen in Big Pine California. Luckily the weather was nice and we were able to enjoy our food out on the patio. It's an old school restaurant in a small town, with friendly staff to match. A popular stop for truckers ad travelers traveling on the 395, they serve breakfast, lunch, and dinner with plenty of classic foods on the menu. We had some burgers and BLT's and the food was great!
By the time we reached Virginia City at the end of our first day, we were exhausted and ready for some good eats! Right in the heart of the Virginia City Strip was the Red Dog Saloon, an old 60's rock themes bar and restaurant specializing in a classic Americana menu. Wings, pizza, sandwiches, and salads...they got it all, and we're definitely glad we stopped by. The staff gave us some tips on things to see in the area, and it just had a great hometown feel to it.
Gotta fuel up before a long day of riding! After staying the night in Carson City, we figured we'd hit up a local favorite, the Cracker Box Diner, and it definitely did not disappoint! They've got all the breakfast classics, and even a few dishes with a twist like the Moko Loko (our choice), a Hawaiian style dish with white rice, a burger patty, fried egg, and some gravy! A clean joint with a friendly energetic staff, this will be our go-to next time we're in the area!
We usually prefer to stay in the towns we're visiting, but Virginia City had very few options considering the current situation. We ended up riding out towards Carson City, and lucked out finding the Hampton Inn & Suites. The staff was able to get us great rooms last minute, and those comfy beds sure felt great after a whole day on the bikes. They had clean and modern rooms with desk space to work, a fridge and microwave, and even a bar area. The next morning we were well rested and ready to make the journey home!
There was so much more history in all of the stops along the way, so if you decide to take the ride, it could easily be spread out into 3 or even 4 days and learn all about it. We hope you enjoyed this weeks video and blog!
Stay safe...stay inspired
For our favorite parts & accessories for our bikes, shop here
We have been running all of the products on our site for years, and for good reason. When it comes to parts, there is no room for sub-par goods, throughout the years we have found what really works for us and we're excited to share these with you.