Posted on January 12 2021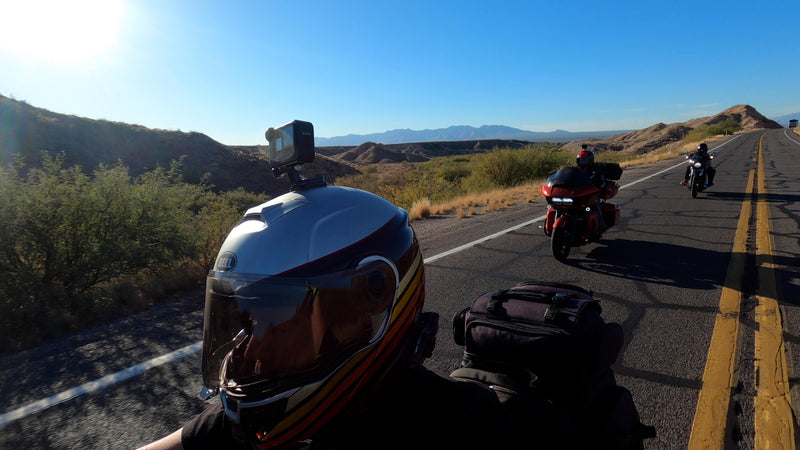 Riding from Texas to Tucson
2LaneLife
Two moto-vloggers passionate about traveling and the open road.
Well, we had made it From California to Texas and nearly all of the way back, and got to see some pretty awesome things and meet some amazing people along the way. The best way to put it...you don't know 'til ya go! We sure went, and we're glad we did. There's few things comparable to the feeling of getting out on the road knowing there are thousands of miles ahead until returning home, and just riding until we're ready to call it a day. Best of all, we hit nearly perfect conditions throughout the trip, which made for some smooth sailing. Not to say we didn't hit some temperatures in the 20's or a little moisture here and there, but we definitely got on the road at the right time!
We started out in Fort Stockton Texas, with a goal of reaching Tucson Arizona by the end of the day. Unlike the days prior, most of our time would be spent on the highway, but we were still able to catch some enjoyable scenery! We experienced gradual changes in landscape from Texas to New Mexico, then on to Arizona, and it was interesting to see these changes as the miles went by. That's the kind of thing that never gets old. Some may find  hours on an uneventful 2Lane road boring, but for us it gives us a sense of freedom, and time to reflect on our experiences. 
We spent some time on the I10 which was pretty much wide open for hours, and made it in to Van Horn, TX where we took our first pit-stop for lunch and gas. Due to everything that's going on right now, we're pretty much on a curbside dining diet, but hey it keeps us moving! We got some quick Subway sandwiches and gassed up, then got back on the bikes to head for El Paso.

For the first time in a few hours, we got to see a lively area with buildings and intricate freeway overpasses before our next stretch of road. 
From El Paso to the Arizona 80 is about a 285 mile straight shot, but it passed in no time. We had some great conversations on the intercoms, listened to our favorite music, and enjoyed our time spend traveling to the next destination. While heading our of El Paso, we looked over to our left and saw some architecture that we weren't accustomed to, and realized we were riding right along side Mexico! It was awesome to see the hills of Mexico covered in houses and buildings right alongside the freeway! So of course, we all got out our cameras and did our best to try and capture the view while we could.
Shortly after, we passed into New Mexico and started to see the unique rock formations alongside the highway. What felt like only a few minutes later, we were in Arizona, and the landscape seemed to get greener by the mile. With trains passing by and a few fellow riders on the road, we were having a good time and were excited to get on a new highway! 
We hopped off of the 10 in Benson Arizona, filled up the tanks, then got on the 80, which would take us all the way into Tombstone! With vibrant colors all around, and patches of trees along the road, we were looking forward to seeing the historic western landmark ahead. We've been to Tombstone a handful of times, but it was cool to be able to show Josh around, and share some history!
Founded in 1877 by prospector Ed Schieffelin in what was then Pima County, Arizona Territory. It became one of the last boomtowns in the American frontier. It grew significantly into the mid 1880's as the local mines produced millions in silver bullion, and was the largest producer of silver district in Arizona. Their population grew from 100 to over 14,000 in just seven years, making it the largest boomtown in the American Southwest. With that came merchants, saloons, gambling halls, churches, banks, and a whole host of other businesses that continued to grow. While shootings were frequent, none were as famous at that of the O.K. Corral.

The gunfight occurred on October 26th in 1881 between lawmen led by Virgil Earp and outlaws such as Ike Clanton, and is one of the most famous shootouts in the history of the American Wild West! It was a result of a feud between outlaws and marshals during a time when the frontier was essentially an open range for outlaws, who were typically not fond of law enforcement. While the gunfight actually took place in a narrow lot 6 doors down from the O.K. Corral, that is the landmark that stuck when telling the story throughout generations. 
According to the Earps' version of events, the fight was in self-defense because the Cowboys, armed in violation of local ordinance, defied a lawful order to hand over their weapons and drew their pistols instead. The Cowboys maintained that they raised their hands, offered no resistance, and were shot in cold blood by the Earps. 
There were a lot of variables in the situation, some of which are still unknown. Recreated scenes of the gunfight can be seen in scnes of films such as "The Good, the ad, and the Ugly" which is one of our favorite movies to watch! Speaking of which, we had a little western shootout of our own, but you'll have to see that for yourself in the vlog...
Unfortunately, our camera man didn't make it out of Tombstone, but that's just how it goes (**No camera men were harmed in the making of this film..).

We got some drinks and snacks and had a great time checking out the town, then hopped back on the bikes and got back on the road on our way to Tucson. Leaving at the perfect time, we got to experience an awesome sunset on our way out, and had about 70 miles until we reached our hotel in Tucson for the night. 
We checked out the area and ended up at the Tuxon Hotel, which ended up being a great stay! It's a newly built hotel, with a restaurant and bar on site, and some great rooms to match! It was cool trying something new and we were definitely impressed with the stay. We checked into the rooms then relaxed over a great dinner at their restaurant, and reflected on another full day of riding. These are places seldom seen without getting out and exploring, but we're glad to have another place we can call home!
After dinner, we got some editing done on the next day's drop then got some sleep before our 520 mile ride back home the following morning. After a week on the road, riding hundreds of miles a day, the miles flew by and we were home before we knew it! 
With the trip coming to and end, we were grateful for all of the experiences, and it made us want to get back out on the next trip as soon as possible! With just about 4,000 miles down in a week, we were able to capture and experience good times all along the way, and being able to share this journey and lifestyle with the world was the icing on the cake!
Here' the route we took for our entire Texas Loop! It took us about a week to make our stops and enjoy the areas we wanted to see, but you could easily take three times that to see everything at a leisurely pace. Whether you're on four wheels or two, our goal is to inspire others to get out and explore this beautiful country and all of the great roads and destinations it has to offer! Google periodically alters the route that we input on here, so make sure to double check if you'd like to see specific stops.
**2LaneLife is not responsible for peril**
We hope you guys enjoyed following along throughout our Texas Ride Series, because we had a dang good time doing it! In every state we were able to see new views, ride new roads, and meet new people, all while riding our motorcycles from state to state. These experiences are what inspire us to keep doing what we do, and we can't wait for more! As always, we appreciate the support! It has been an amazing 9 months since the start of capturing these rides and sharing them with you guys, and there's plenty more to come!
See ya down the road...
Stay safe...stay inspired 

-2LaneLife

Focus on the Journey
Gearing up for long trips can be rough, but we've got you covered! Check out our catalog of products and feel free to reach out with any questions!