Posted on September 06 2022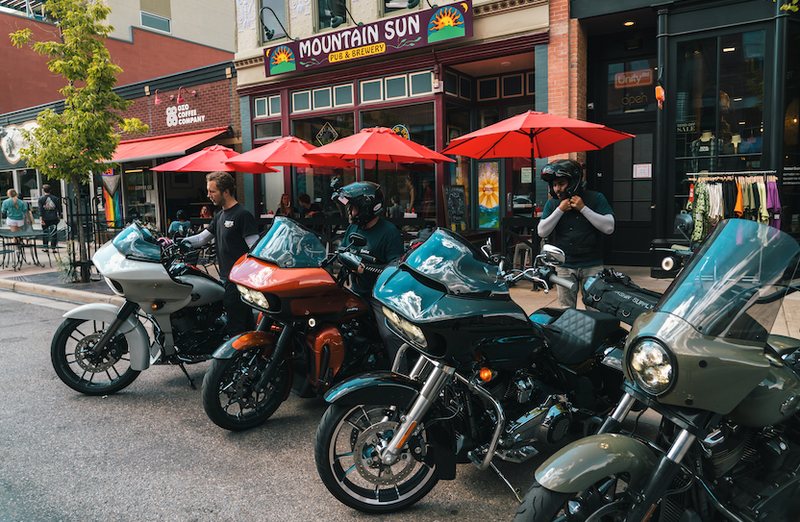 One Day Closer to the Rally!
2LaneLife
Two moto-vloggers passionate about traveling and the open road.
With just under 1,000 miles under our belt in 2 days of riding, we were excited to get to the Black Hills of South Dakota! The plan for day 3 was to get to either Cheyenne or Lusk, Wyoming so that we could have a nice short ride into Deadwood the following day. 
We caught up on some sleep and made our way into town to start the day with a nice breakfast at the Daily Bread restaurant, and it did not disappoint!
Before heading out of town, we decided to cruise over to the Linwood Cemetery, where we checked out Doc Holliday's grave site and learned some history! We've passed through Glenwood Springs a few times, but had never made our way to the other side of town to see what it has to offer, so this was on the top of our list. After a nice hike up the mountain, we headed back down to the bikes to hit the road!
This section of I70 out of Glenwood Springs is one of our favorites, and for good reason! The towering rock structures on either side, the elevation change and long sweeping turns, and the crisp mountain air make for an incredible experience that is one you won't want to miss!
We didn't have much mapped out for the day other than a rough idea for a final destination, so we twisted the throttle and got moving in that direction. After some time on the road, we decided to pull into Boulder, Colorado for lunch and after a quick search, we found our way to a popular restaurant and brewery called Mountain Sun Pub & Brewery We soon found out it was popular for a reason! The food was delicious, they had some great local brews on tap, and our waiters were top notch. Definitely recommended if you find yourself in Boulder!
After fueling up our bellies and bikes, we were on the road again with one goal...WYOMING! The miles were stacking up, and aside from some traffic outside of Denver, the roads were wide open. After a couple of gas stops, we decided to make the push into Lusk, Wyoming for the night. We pulled into town just after sunset, and rolled into our favorite stay there, the Best Western Pioneer. We've stayed there a few times in the past, and with the chuck wagon omelette bar breakfast, walking distance to bars & saloons, and parking right outside the rooms, that's our go-to stay in Lusk.
Last time we were in town when we were making our way back from our trip to the Black Hills in May, we ate at The Pub, so we wanted to show it to the guys and enjoy some great food before calling it a night. You never know with some of those "hole-in-the-wall" joints, but they've got some good eats!
Another solid day in the books, and it was time to get some rest before the final stretch into Sturgis the following day! This was a great route, and a great time was had by all!
See ya down the road!
Focus on the Journey
Gearing up for long trips can be rough, but we've got you covered! Check out our catalog of products and feel free to reach out with any questions!