Posted on September 20 2023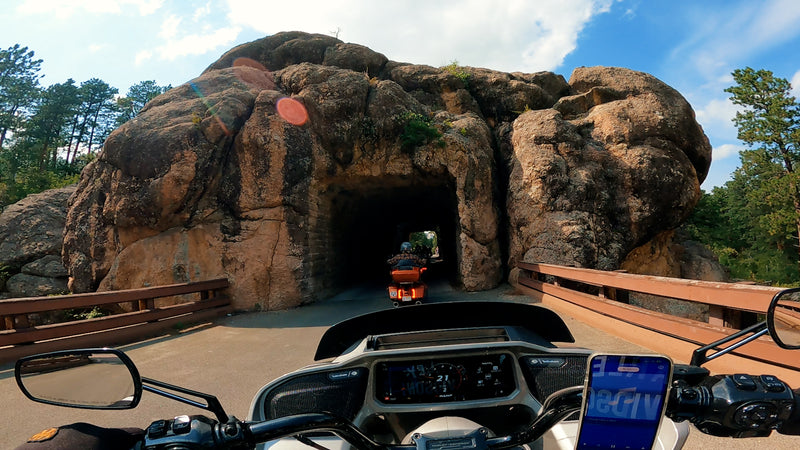 Our favorite Black Hills Day Ride!
Clear Skies & Great Miles
After nearly a week of non-stop rain on the trip, things cleared up just in time to hit the road and enjoy one of our favorite day rides in the Black Hills. After a late breakfast in Deadwood at the Gold Country Inn Cafe, we met up with some buddies and got the wheels rolling, setting our sights for Mount Rushmore as the first stop.
Mount Rushmore National Monument 
Although we've been to Mount Rushmore too many times to count, it's always a staple in our trips to the Black Hills and it never gets old. This time around, we even took a walk down the Presidential Trail which loops down closer to the monument for a close-up view with some history along the way. For some of the guys in the group, it was their first time visiting the monument, so it was cool to see their reactions!
Iron Mountain Road HWY16A   
Up next was the world famous Iron Mountain Road! Known best for it's scenic views, one-lane tunnels, pig tail bridges, and switchbacks throughout, it makes for a slow, but incredibly enjoyable cruise through the mountains. While we've found it to be a bit faster of a pace when the rally is not going on, it is definitely awesome to see endless lines of bikes at every turn. 
Keystone
With plenty of daylight left, we rode out to the town of Keystone, South Dakota to enjoy some quality people watching and relax on main street for a while. Keystone is home to not only many shops and restaurants, but tons of activities like helicopter tours, train rides, gold mine tours, mountain bike rides, water activities, museums, old time photos, and a whole lot more! 
A Night on the Town
The group had some different plans, so Gaylin and Lance got dinner with some friends in Deadwood and Josh hit up downtown Sturgis with Lance Jr. and Juan to try out some tacos and enjoy the night life. We all got back together at the house and enjoyed a cold one at the end of a long day and got ready for the good times ahead!
Focus on the Journey
Gearing up for long trips can be rough, but we've got you covered! Check out our catalog of products and feel free to reach out with any questions!