Posted on September 08 2020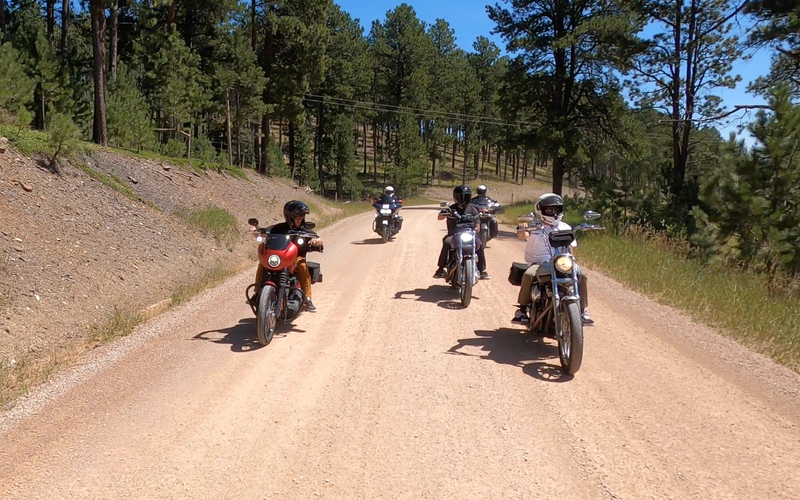 Days 7-10 Sturgis and the Journey Home
2LaneLife
Two moto-vloggers passionate about traveling and the open road.
It's hard to put into words how awesome of a trip this Sturgis run was as a whole...but we'll do our best. We had some early mornings and long days riding through the heat. We hit some wind and rainstorms, a couple breakdowns, and meals with good friends, and it's all a part of the journey. We got to meet so many amazing new friends and see breathtaking views, and we really don't know how it could've been much better. From the rich American history throughout the Black Hills, and narrow winding roads that lead to it, there was no better way to show the newcomers what it's all about. These experiences are what shape us as a group and as individuals, and we wouldn't trade that for anything. As our time in Sturgis was coming to an end, we figured we'd jam pack our last day with as much as we could, then get on the road home!
We woke up on day 7, whipped up some great breakfast at the house, then headed out to check out the Mount Rushmore Memorial and the great roads on the way! Especially for the guys who haven't seen it yet, it was awesome coming around this turn and watching them get a glimpse of it for the first time. There were bikes everywhere, clear skies, and a view of this spectacular monument right from the side of the road.
It was nice to be able to get inside and see it from up close, and all the guys got a little history lesson from the wealth of knowledge we call Gaylin! We hung out, got some great pictures, and got back on the road to have one last lunch at the Boar's Nest in Lead, SD. It's probably our favorite joint in the area, and we make sure to stop by for some grub at least a couple times every trip!
On the way there, we saw what felt like thousands of bikes along the road. Everyone out riding for the same reason, to share our love for riding and the places it takes us. All of a sudden, we see Little Lance slam on the brakes and hook a left thinking "where is he going?!". He ends up taking us on a shortcut through an amazing dirt road with views of streams, trees, mountains, and blue skies! You never know where a turn off could take you...but luckily he did!
After lunch, we got back on the road and headed through historic Deadwood on our way to the Buffalo Chip. The wild west of Deadwood was born in 1876, when prospectors discovered a creek full of gold, surrounded by dead trees...hence the name Deadwood. The city has been designated as a National Historic Landmark District, for its well-preserved Gold Rush-era architecture. There's tons of interesting history in Deadwood and surrounding areas like Custer, and we'd recommend doing some research. Definitely a wild place.
A few miles down the road, we ended up at the Buffalo chip, where we would watch the Bell Brawl, a stunt competition with some of the best riders in the industry! Little Lance was a judge, so we got to get a nice view of the show and get close to the action!
The Brawl didn't disappoint, it was definitely a show to remember! We got to see some burnouts, all kinds of wheelies, a few spills, and even some fire! During the final round, CBear wheelied through a strip of gas, igniting it with the sparks from his fender guard, and she lit right up! He drifted around bouncing off the rev-limiter and spinning the rear wheel while flames circled around his rear tire and it was a site to see! Unfortunately the flames didn't go out as planned and the rear of his bike lit up, but they put it out and he secured 1st place!
We hung out at the Chip for a while, and got to chat with some new friends, Pat and Allison, from Tuscaloosa Alabama. They came up to us at the Boar's Nest and shared that they've been watching all of our videos and have been following our 2LaneLife journey since day 1! We love meeting people like them, and it made our day hearing how much they enjoy what we're doing and how they've learned a lot from the videos. That's what the 2LaneLife is all about!
The next day, we packed up all our stuff and hit the road with the end goal of ending up somewhere in Wyoming to stay the night. Once you get out there, the roads really start to open up, and it makes for some spectacular views. A couple hundred miles in, we stopped in Rawlins WY for a great dinner at Buck's Sports Grill, and even saw some deer walking through the street! We passed by some rivers and ran through some open plains, and eventually ended up in Rock Springs for the night for a stay at the Outlaw Inn.
On day 9, we were back and forth whether we wanted to run from Wyoming all of the way home, or to somewhere just short of it like Vegas. Towards the end of the day coming through St. George and approaching Vegas, we hit some 112 degree dry winds, and decided to cut the day at ~600 miles and relax in Sin City for the night. 
We ended the night, and the trip for that matter with a nice dinner at CATCH Las Vegas with some drinks, steak, and sushi, and shared our favorite experiences from the trip. It was crazy to think of all of the miles that we covered and all of the places we got to see...all on two wheels. The trip couldn't have gone any better, and we're always grateful for the experience. Until next year, Sturgis!
If you click on the image of the map, you will find a link to the route to our entire Sturgis Journey! There's plenty of different routes and stops along the way as well! It may look like a ton of distance to cover for some, but taken in sections, it's super enjoyable, especially with all of the views! 

(click here to open in a new window)
**Remember to always stay up to date with road conditions and routes, 2LaneLife is not responsible for peril.                                                        

We hope you guys enjoyed our 4 part series from the Sturgis run. We can't wait to go back next year, but until then, we'll be getting some great rides in! Comment down below what your favorite view from the series was! Thanks for checking it out!
See you next week!
Stay safe...stay inspired 

-2LaneLife
Focus on the Journey
Gearing up for long trips can be rough, but we've got you covered! Check out our assortment of products and feel free to reach out with any questions!