Posted on September 15 2020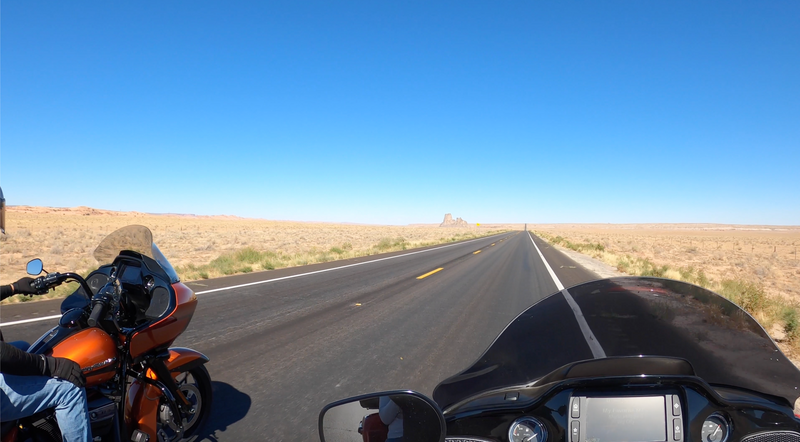 Riding from Los Angeles to Durango Colorado
2LaneLife
Two moto-vloggers passionate about traveling and the open road.
Welcome back to another great run! We hit some heat, hunted for a lost GoPro, heard some great stories from new friends, and got to see some awesome views on the open road. In the past month, we've gotten to experience all kinds of landscapes during our travels, and we're excited for the roads to come. 
We got on the road and headed out of town a little after 5:00am, and got to experience an epic sunrise on the 210 on our way to Arizona. Checking the weather before the trip, we saw that there would be some 100+ degree days, so we wanted to beat whatever heat we could. Gaylin was on his brand new Road Glide, so we took the first couple hundred miles easy to make sure and break that thing in the right way!
We stopped in Lake Havasu City Arizona for a quick snack and a break in the shade, then headed north east about two hours to stop in Seligman to have a great lunch at the legendary Roadkill Cafe on Route 66! We've ridden by there countless times, but never made it inside for some reason. We had some elk burgers, sandwiches, and a salad, and the food was great! We found our new favorite spot in Seligman for sure!
On our way out of the restaurant, we noticed a bike loaded with gear and sparked up a convo. We met Melany and Joe who were 3,500 miles in on a cross-country trip from Pennsylvania to California and back, with stops in various states along the way. Now thats the 2LaneLife! It's awesome meeting people who share the same passion for riding and hearing stories about their experiences. That ride makes some of ours seem like nothing!
We hopped back on the road and watched the landscape change as the miles flew by. Most of the day we were riding through the desert, but as we approached Williams and gained some elevation, the air cooled down and we got to ride through the beautiful surrounding pines. Even though we stop in Williams quite a bit, it's still one of our favorite places to visit during longer trips. 
After a long day riding in the sun, we walked the strip and ended up at the Red Raven Restaurant for dinner. We figured we'd skip the burgers and fries this time and get something a little nicer to eat. Another one of our favorite spots in Williams with a great meal every time! We got some salmon, salad, and pasta, then headed right down the road to The Lodge for a relaxing stay before the journey to Durango in the morning.
Before heading out, we grabbed a quick breakfast at the Pine Country Restaurant for some good 'ol fashion eggs, bacon, and hash browns to fuel ourselves up before topping off the bikes. We were expecting another hot day, but luckily it was only about a 350 mile ride from Williams to Durango. We hopped on the I40 with full tanks and a great day of riding ahead of use excited to be on our way to Colorado!
Not long after, we were cruising down the 160 and something kind of important flew out of Lance's hands...
We pulled over and saw a GoPro case and a battery, but no camera in sight. Everything tumbled down the highway and the camera was nowhere to be found. Just when we were ready to give up the search, Gaylin found it a ways down the road hiding in some weeds. We were stoked to find it intact with the memory card still inside...no footage lost!
We hopped from highway to highway and before we knew it, we made it to the Four Corners Monument. Unfortunately, the monument itself was temporarily closed, but the group got a nice history lesson from Gaylin as always! It's more than just a meeting point between four states, it has a lot of interesting history that's worth looking into.
This would have been our only "big" stop for the day, so the last leg of the day's journey would be pretty much non-stop. We got back on the 160, then hopped on the 491 for a bit and rode through Cortez Colorado, and back to the 160 again. As we approached the highlands, we started seeing some greener colors, and eventually reached some mountains on our way into the canyons. The weather really started to cool down, and it was nice to see some new scenery.
Not long after, we pulled into Durango and checked into the historic Strater Hotel, built in 1887! After settling in, we headed over to The Office Spiritorium for an awesome dinner and some great drinks to celebrate our travels for the past 2 days. As much as we love the journey, it's nice getting to the destination knowing you'll be able to relax for a couple days.
Despite a few minor bumps in the road, it was a great ride out to Colorado, and we were excited for the fun to come during the rally. Catch part 2 next week, where we enjoy some more good eats, meet new friends, and enjoy the city.
If you click on the image of the map, you will find a link to the route to our entire Durango Run! There's some cool stops along the route that are worth checking out! Whether your on a bike or in a car, it's always a great time on the open road!

(click here to open in a new window)
**Remember to always stay up to date with road conditions and routes, 2LaneLife is not responsible for peril.                                                        

Hopefully you guys enjoyed the first part of the trip. We really enjoyed meeting new friends along the way, whether it be the couple on the Gold Wing riding all over the country, or our guy Jeremy who we met at the gas station who was on the same route as us. It's always cool hearing stories from fellow riders and learning new things along the way. Stay tuned for next week's drop where we'll be hanging out at the rally, going on some adventures, and hitting the road home!
See you next week!
Stay safe...stay inspired 

-2LaneLife
Focus on the Journey
Gearing up for long trips can be rough, but we've got you covered! Check out our assortment of products and feel free to reach out with any questions!