Posted on November 29 2022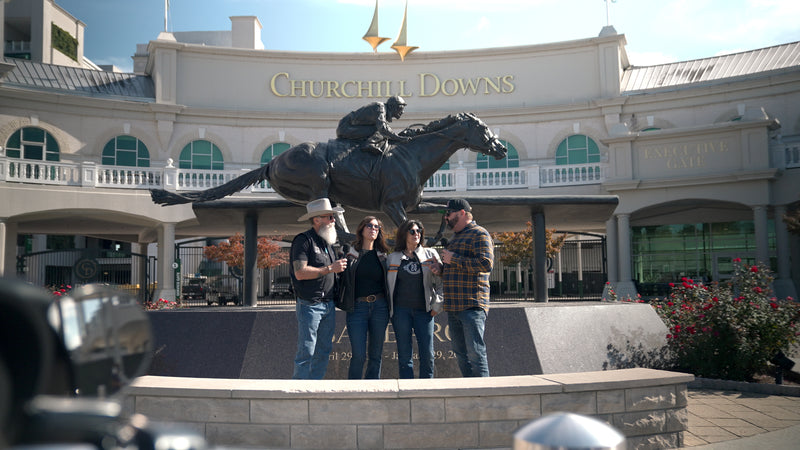 Riding to the Churchill Downs Racetrack & More!
2LaneLife
Two moto-vloggers passionate about traveling and the open road.
Day 6 of our adventure exploring the south, and we had some cool things lined up for the day! Gaylin has a buddy who manages the Churchill Downs Racetrack in Louisville, Kentucky so we figured we'd take the ride out there and get a private tour before checking out Abraham Lincoln's birthplace. The ride out to the racetrack was mostly on the highway, but we still got to see some great views and vibrant colors along the way.
Churchill downs Racetrack is best known for hosting the annual Kentucky Derby and is a staple in horse racing history. Officially open in 1875, the racetrack has been in operation for over 145 years! While there were a handful of things along the tour that we were not able to film, we got to capture some cool things along the way and learned some great history.
After riding back from Louisville, we made a stop in Larue County at the Abraham Lincoln Birthplace National Historical Park. The park has preserved two separate farm sites where Abraham Lincoln was born and lived during his early childhood. The Memorial building was constructed by the Lincoln Farm Association on the Sinking Spring site between 1909 and 1911. In 1916, they donated the Memorial and property to the Federal government, which established the Abraham Lincoln National Park. 
It was great to see some deep American history of one of our most prominent presidents in such a beautiful part of the country!
After a great day on the road, we ended up at El Acapulco to try another Mexican restaurant in town and enjoyed some great food! After dinner, we cruised down to The Dive for some drinks and to wind down for the night. It was another great day exploring the open roads of Kentucky, but as our trip was coming to an end we would be heading back to Nashville the following day. Stay tuned for the rest of the series!
Focus on the Journey
Gearing up for long trips can be rough, but we've got you covered! Check out our catalog of products and feel free to reach out with any questions!