Posted on December 04 2020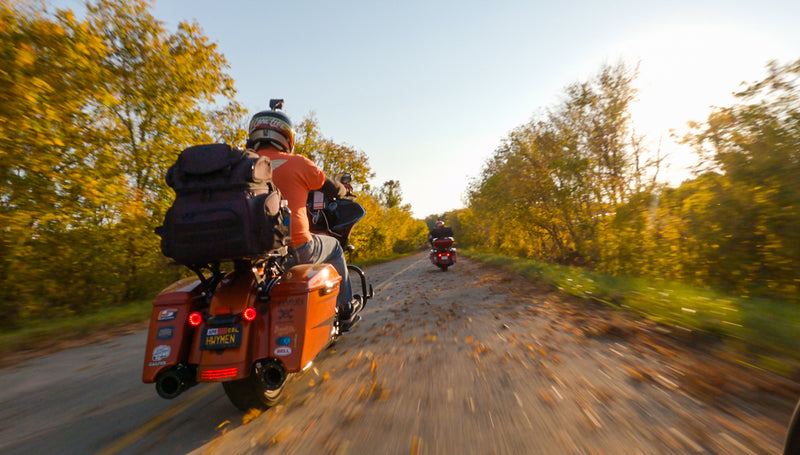 Day 5 of our Route 66 Journey
2LaneLife
Two moto-vloggers passionate about traveling and the open road.
Day 5, and there's no turning back now. Nothing but good times and great roads ahead. The farther we got from home, the more new sights we were able to see, and we really started to get that sense of adventure. Riding through middle America, we were able to see the open plains and colorful farmland that we seldom see back home. It's a great feeling being able to explore all parts of our beautiful country on two wheels, and we wouldn't trade it for a thing. Ya don't know til' ya go!
We started the day with a quick breakfast in Oklahoma City, then get on the road to head towards St. Louis, Missouri! After a short time on the 40, we got off and blew a toll to get back to the 66 and things were looking good!It's crazy how one little detour off of the freeway can take you to these old areas and long stretches of 2Lane roads, and that's why we do it! 
After some very enjoyable miles to start the day, we ended up in the first route 66 town on our path in Chandler Oklahoma. Much more developed than some of the desolate towns in previous states, it was a cool old town to see. There were new buildings, old buildings, and plenty of people walking the streets. The fact that some towns are still thriving to this day while others have simply died out, is always really interesting to see.

No matter where you're at on route 66 though, it gives a sense of going back in time and just has a very nostalgic feel to it. Up next, we checked out the town of Stroud Oklahoma. It had a similar vibe compared to Chandler, and we were looking for a spot called the Rock Cafe, which is a historic Route 66 Restaurant named after the local sandstone used in it's construction. It was built by a man by the name of Roy Rieves in 1936 during the Dustbowl era of the great depression, and they relied on local materials to construct it. The land was purchased for $100 and the sand stone for just $5!
While we were there, we ran into a group of fellow riders and were able to hear some great stories. They also belong to the 7-7 Chapter of the Combat Veterans Motorcycle Association, which was awesome to hear! It's always great being able to meet the brave men and women who have served our country, and we were happy to see that they were out enjoying the freedom of the open road.
After a quick stop through there, we got back on the road between the highway and the 66 to make our way to Vinita Oklahoma for lunch. We cruised through the town and decided to stop by the Hi-Way Cafe for a great lunch. Another great small town Route 66 restaurant to remember! Especially during times like these, we think it's important to support small businesses like this, and we were glad we were able to check that place out! 
We got back on the 66 which turned in to the 44 (still technically the 66 in that area), and made our way towards Missouri. As the sun began to go down, we ran through some awesome back country roads with leaves falling and colorful trees, with the roads pretty much to ourselves. This led us to Lebanon Missouri, which we would roll through quickly on our way back out to a great open stretch of the 66.We had no idea that Oklahoma and Missouri were so beautiful, and were grateful we were able to experience those areas in such perfect conditions.

We spent some more time on the back road 66 then hopped back on the highway, but only a few short minutes after, we noticed a cool hidden bridge right beside the 44 and had to check it out! 
We rolled up to it, and it was actually a dead-end unable to be crossed, but it made for an epic picture at least! 
We hung out for a little and took a break, then decided to but out the drone for some cool bridge shots. We got some basic aerials over the bridge and the highway, then decided to try something new. Flying through the bridge made for some really awesome footage! We wanted to get one more shot flying it through two signs to then follow our bikes close to the ground on that short stretch of road. In order to fly it through the signs, the obstacle avoidance sensors had to be turned off. You can probably guess where this is going...

You guessed right, Josh crashed it into one of the sign posts, but luckily it corrected itself and there wasn't a scratch on it. We did another take, got it right, then headed out on our final leg of the day. Instead of getting right back on the highway, we decided to stay on the back roads for a while, especially after seeing what we just experienced. We continued through the winding sections of the 66 through the tree line as the sun slowly set, and it was a great way to end an awesome day of riding.
We ended up spending the night in Eureka instead of St. Louis, and it ended up being a great place to stay. There were only a few restaurants open close by, so we decided on Poor Richards Restaurant for some great burgers, wings, and cheese steaks. Those hit the spot! After a great meal, we headed back down the road to the Holiday Inn St. Louis to rest up for another full day of riding ahead!
It was another great day exploring various sections of the 66, and we were excited to have made it this far away from home, especially with no bumps in the road! We hope you guys are enjoying the travels so far! Let us know if we missed any of your favorite stops along the route, or if you've been to any of these places! As always, we're grateful for all of the support. See ya down the road!
For navigation, we used Route 66 Navigation to get some history on all of the little stops and for ease of navigation to and from destinations on Route 66 as much as possible. Overall, we had a pretty solid experience with their app, so if you decide to ride Route 66, check it out!  
Stay safe...stay inspired 

-2LaneLife

Focus on the Journey
Gearing up for long trips can be rough, but we've got you covered! Check out our catalog of products and feel free to reach out with any questions!