Posted on November 03 2020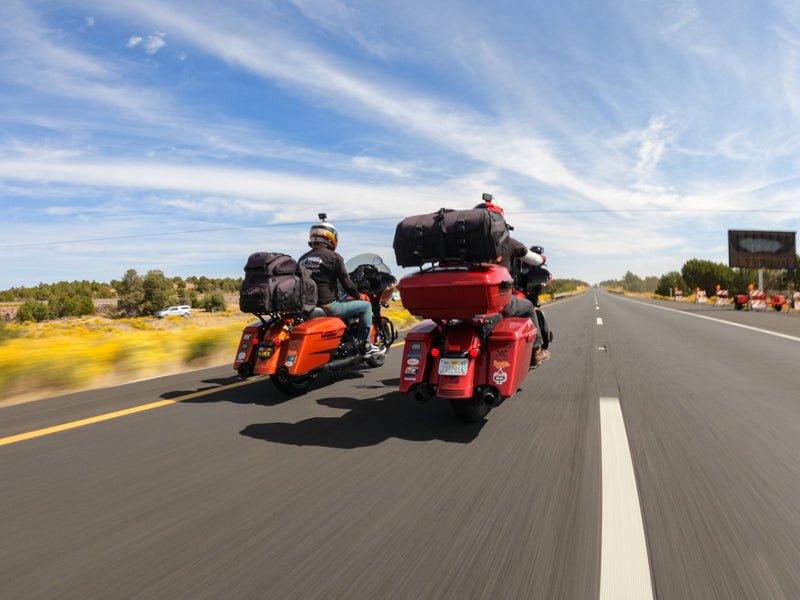 Day 3 of our Route 66 Journey
2LaneLife
Two moto-vloggers passionate about traveling and the open road.
Well, what can we say...another awesome stretch of Route 66! We rode with some new friends, got to hit some dirt roads, saw some interesting towns, and had an all around great day of riding. Day by day, we've seen awesome changes in roads and scenery, and we're grateful to be able to continue exploring this beautiful country on the open road! From small towns full of art and great people, to long stretches of road with nothing but mountains and cool crisp air in between, there are few greater feelings than being on two wheels with the uncertainties and excitement of the roads ahead. 
We started off the day in Albuquerque by meeting up with some friends we had met a few weeks prior at the Four Corners Rally in Durango Colorado. We got out the door early, and met them for a great breakfast in their hometown at The Range Cafe. It was cool meeting up with Tom and Steve after talking about it at the rally, and we were stoked they were able to show us around the area for the morning!
After breakfast, they escorted us out of town, and would lead us on Historic 66 through some great mountain roads out to the small town of Madrid, New Mexico. Originally a mining town, Madrid has developed into an artistic community with some neat history. It is also known for its role in the movie "Wild Hogs", as the landmark Maggie's Diner was built just for the movie.
While the "Diner" does not actually serve food, it's a cool little souvenir shop that attracts lots of tourists throughout the year. We saw groups of people taking pictures, and in the short time we were there, there were quite a few people coming to check it out.
Steve and Tom shared some local history while we hung out in Madrid for a bit, then we got back on the road to see Santa Fe!
Santa Fe is about 30 miles out from Madrid and the ride over there has some great views! We took the 14, which is Route 66, over to the 25 which brought us right into town. It's crazy to see the difference in development between the two areas, and we really enjoyed seeing Santa Fe. Just like Madrid, it has a prominent art culture, and we even saw people taking painting classes right on the sidewalk. We took a ride through the town, talked to some people, then got back on the road to head to Santa Rosa.
Santa Rosa was a cool area to ride through. Similar to many of the small towns along the route, it was made up of many classic looking hotels, restaurants, and shops, some of which have been abandoned for years. Despite having many similarities to other towns along the way, it's always interesting to see the level of development and activity in these areas. Their ability to survive is highly dependent on the tourists passing through.
We hopped between the I40 and the 66 on the way to Tucumcari, which is a city in Quay County, and was founded back in 1901. While they do have sections of abandoned buildings just like the surrounding Route 66 towns, they also have a handful of attractions in the area like various museums, monuments, and all kinds of unique little shops.
One of the last runs through a small Route 66 town for the day was San Jon, New Mexico. There were a few houses and operational businesses there, but from what we saw, there were mostly abandoned buildings along the strip. 
After a minute or two through there, we continued on the 66 heading towards the Texas border.
All of a sudden, as we were cruising along, we noticed an abrupt change in conditions ahead. Right after ripping around a corner, the road was no longer paved and we traveled along gravel and dirt roads for a few miles. Luckily, we saw it in time and were able to slow down a bit before this section. These unexpected changes are part of what makes traveling on the 66 and on the open road in general so exciting. We were kicking up a trails of dust and rocks, listening to music out in the middle of nowhere just having a great time, and that was one of the most memorable sections of road from the trip. Stay alert and stay prepared for the roads ahead!
We took the 40 intro Texas, and hopped back on the 66 a few minutes after the Texas border. We ended up on an awesome stretch of 66 paralleling the 40, with no cars, and views of the surrounding open plains. It was nice not having to be surrounded by trucks and cars, and being able to cruise down a nicely paved 2Lane, getting closer and closer to our destination for the night. 
We hopped back on the 40 and arrived in the city of Amarillo, Texas shortly after. Located on the panhandle of Texas, its a gateway to the vast, trail-lined Palo Duro Canyon State Park, and has a population of around 200,000 which is quite a difference compared to many of the small towns we had been traveling through the past couple of days.
We figured we'd end the day Texas style with some nice big steaks at none other than the Big Texan Texas Steak Ranch, home of the free 72oz steak...if you can finish all of it in an hour! We had some drinks and some great food, then walked down to the Hampton Inn & Suites, which was a great stay with big, clean, comfortable rooms!
For navigation, we used Route 66 Navigation to get some history on all of the little stops and for ease of navigation to and from destinations on Route 66 as much as possible. Overall, we had a pretty solid experience with their app, so if you decide to ride Route 66, check it out!  

We racked up about 400 miles that day, getting to experience some great sections of Route 66. It takes a bit longer to get places compared to taking the major highways, but it was always worth it! With about 1,400 miles under our belts for the trip so far, we still had a ways to go to get to Chicago, but that's all part of the adventure! They next day, we would head out of Texas after stopping at the famous Cadillac Ranch, and ride through the beautiful state of Oklahoma which we really enjoyed!
See you next week, thanks for stopping by!

Stay safe...stay inspired 

-2LaneLife

Focus on the Journey
Gearing up for long trips can be rough, but we've got you covered! Check out our catalog of products and feel free to reach out with any questions!