Posted on April 28 2023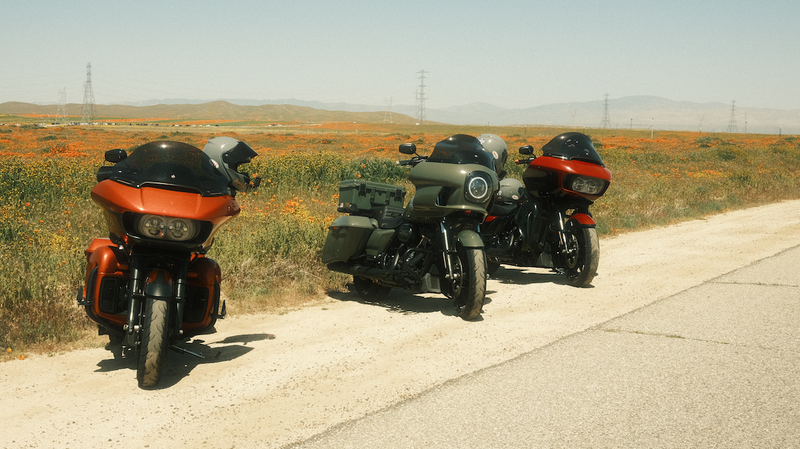 2LaneLife
Two moto-vloggers passionate about traveling and the open road.
With some great times ahead, it was time to set out for a relaxing weekend trip with the ladies! We had some points of interest in mind like the Poppy Reserve and our stay in Kernville, but the plan was no plan! 
We met up nice and early and rode out to The Rock Inn for breakfast via I5 and the beautiful San Fransequito Canyon and ended up meeting some supporters which is always a great time! After breakfast, we took a short 20 minute ride out to the Antelope Valley Poppy Reserve ( Via Munz Ranch Rd.). A state protected reserve, it harbors the most consistent blooms of California Poppies and boasts vibrant landscape in every direction. With hiking trails through the rolling hills of the Mojave Desert Grasslands, it makes for a unique area to explore. 
After some quality people-watching and soaking up some great views in the reserve, we began to make our way towards the Walker Basin and it's scenic country roads. Our first stop would be in Caliente which has some rich Gold Rush History. Originally established as Allens Camp, named after the cattle rancher and settler Gabriel Allen, it eventually adopted the Caliente Title. Thriving during the Southern Pacific Railroad's construction of Tehachapi Pass line, Caliente Creek offers the traveler's mind a place to explore possibility.. 
 ...and some lunch while you're at it.. 
We found a great meal at the Schoolhouse Grill in Twin Oaks and ended up meeting the owner Kat, who was very welcoming and shared the story of their restaurant with us! We love small business, good people, and tasty food with a story, so this will definitely our new go-to stop when traveling through the area! The boomtown of Havilah lies just 24 miles north and although only a few structures remain, the wild west history lives on.. Designated a California Landmark, Historic Havilah makes for an enriching roadside stop on the way to Lake Isabella and the final stretch to Kernville where the flourishing river town lies. 
We pulled into town just before golden hour at our stay for the night, The Kern Lodge before walking over to go grab a well-deserved meal. We hit up our favorite dinner joint in the area, Ewings and had some tasty steaks and a few drinks before calling it a night and were excited for another great day ahead! Stay tuned for the rest of the adventure!
Focus on the Journey
Gearing up for long trips can be rough, but we've got you covered! Check out our catalog of products and feel free to reach out with any questions!