Posted on May 23 2023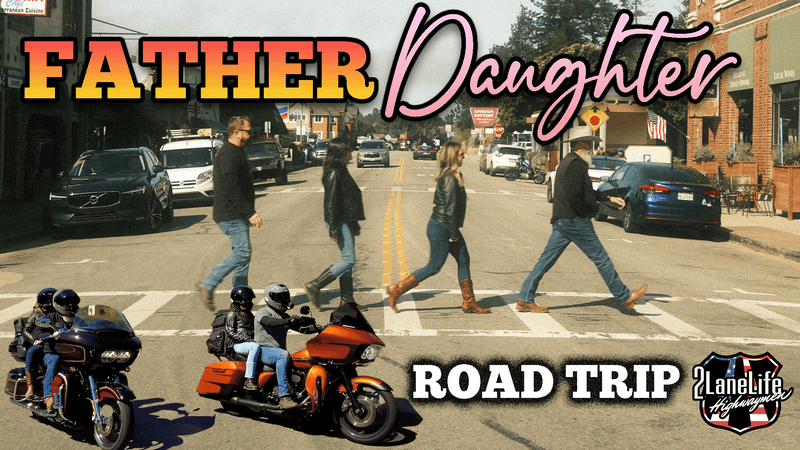 A Memorable Father-Daughter Motorcycle Road Trip: From Cambria, California to Cold Spring Tavern
2LaneLife
Two moto-vloggers passionate about traveling and the open road.
Day 3 of our father-daughter roadtrip and we still had some miles to cover! With two fun-filled days in the books, there was still more to see as we headed south. There's something truly magical about the open road—the wind in your face, the freedom to explore, and the sense of adventure that lies around every bend. And when you combine that with the bond between a father and his daughter, you have the perfect recipe for an unforgettable journey.
After loading up the bikes, we headed over to none other than Linn's Restaurant in Downtown Cambria, which has become our favorite spot for breakfast throughout our years of visiting the area. Their menu is full of locally-grown produce as well as Hearst Ranch Beef and other local favorites and has some great friendly service to match. Definitely worth checking out!
We headed south on Highway 1, but just under 15 miles into our journey, we pulled off in Cayucos to show the gals one of their mothers' favorite stops...the Brown Butter Cookie Company! They've got some uniquely rich brown butter and sea salt cookies along with some other great flavors with a coffee joint right next door, so it always makes for a fun pit stop along the way. 
From there, we headed down to our second to last stop for the day to show them the world-famous Madonna Inn! Perched on the Central Coast of California, the Madonna Inn stands as a vibrant testament to individuality and timeless charm. Since its establishment in 1958 by Alex Madonna and his wife Phyllis, this one-of-a-kind hotel has captured the hearts of travelers with its whimsical architecture, lavish interiors, and unforgettable ambiance.
One of the defining features of the Madonna Inn is its unconventional architecture. Alex Madonna's artistic vision and love for opulence resulted in a collection of 110 uniquely themed rooms, each with its own character and decor. From the vividly pink "Jungle Rock" room to the whimsical "Caveman" room, every space within the inn tells a story and transports guests to a world of fantasy.

Today, the Madonna Inn remains an enduring symbol of individuality and California's spirit of adventure. Its iconic pink exterior, picturesque surroundings, and unparalleled attention to detail have made it a beloved landmark for travelers seeking a one-of-a-kind experience. Whether visitors are staying overnight, dining in the celebrated Gold Rush Steak House, or simply exploring the whimsical grounds, the Madonna Inn offers a delightful escape into a world where imagination knows no bounds.

While we didn't make time to show them around the whole property, we took a quick walk-through before continuing on to Santa Barbara. Just 80 miles south on SR154 lies Cold Spring Tavern. Nestled in the scenic hills of Santa Barbara, the tavern holds a rich history that stretches back to the early 19th century. Originally established as a stagecoach stop in 1868, it served as a vital rest point along the San Marcos Pass route, catering to weary travelers, stagecoach drivers, and miners seeking refuge and sustenance. Throughout the years, Cold Spring Tavern has witnessed the evolution of transportation and the changing landscape of Santa Barbara, evolving from a stagecoach stop to a general store, a post office, and finally, a beloved historic landmark known for its rustic charm, hearty cuisine, and live music that continues to captivate visitors from near and far. Over the years, we've visited Cold Spring Tavern countless times as it has become a popular motorcycle landmark in the area.
We got the chance to catch up with the daughters and look back on all of the good times had throughout the weekend's adventures and when we asked if they'd do it again, we were happy to hear that the answer was "YES!".
Although we enjoyed many of the same things we do on our regular roadtrips, having our daughters along for the ride made it a whole new experience that we'll never forget! We hope everyone enjoyed following along on the journey as much as we did capturing it and we'll...
See you down the road!
Focus on the Journey
Gearing up for long trips can be rough, but we've got you covered! Check out our catalog of products and feel free to reach out with any questions!