Posted on May 09 2023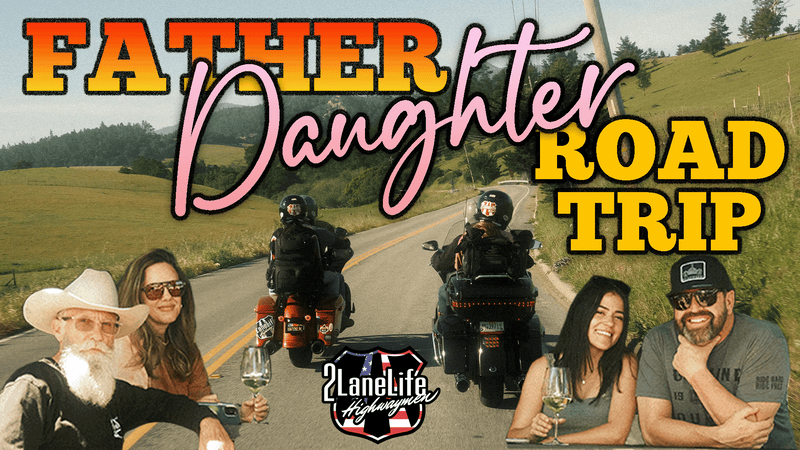 The Open Road with our Daughters in Tow!
2LaneLife
Two moto-vloggers passionate about traveling and the open road.
We've been planning this one for quite some time and it finally happened! After cancelling due to severe weather, things eventually worked out to begin a ride up the coast with our daughters for a weekend of great weather, good eats, and a new experience for all of us.
We weren't going too far, but we figured a weekend in Cambria, California would be a great first trip for the gals with tons of food, shopping, light miles, and sight-seeing. Neither of them have been on the back of a motorcycle, so we were excited to show them what it's all about!
We started off in Moorpark, CA for breakfast at The Cactus Patch Restaurant then loaded up to make our way north via Grimes Canyon (SR23), CA126, and US101 with some short sections on the Pacific Coast Highway. 
We made our first stop in the Santa Ynez Valley in Los Olivos to go to our favorite winery in the area, Saarloos & Sons! Our good friend Keith owns and operates the winery and we were able to catch him out working the vineyards and hang for a bit to talk bikes, life, and farming. It's amazing the people you can connect with over motorcycles and other shared interests! 
Up next was lunch! Keith recommended we go check out Plenty on Bell, which ended up being one heck of a meal! We had some mouthwatering garlic egg drop soup, ahi salads, sandwiches, and more, and this one definitely made our list of go-to stops whenever we're in Los Alamos next. 
Cambria is only about 85 miles north of Los Alamos, so we only had a short stretch of road to our destination for the night and took our time along the way. We stopped in Avila Beach for some coffee & ice cream, and pulled in to Cambria just after 5 with plenty of time to enjoy some sunlight before dinner.
We've got two favorite dinner restaurants in Cambria along Moonstone Beach Drive, and luckily we would be staying for two nights, so we decided to head over to the Moonstone Beach Bar & Grill for night 1 and enjoy a nice meal after a great day on the road.
We made it back to the FogCatcher Inn for a good night's rest before another great day of riding.
The following days would be full of exploring and history and we were excited to show the girls some neat places like Hearst Castle and Ragged Point!
See you down the road..
Focus on the Journey
Gearing up for long trips can be rough, but we've got you covered! Check out our catalog of products and feel free to reach out with any questions!