Posted on July 18 2023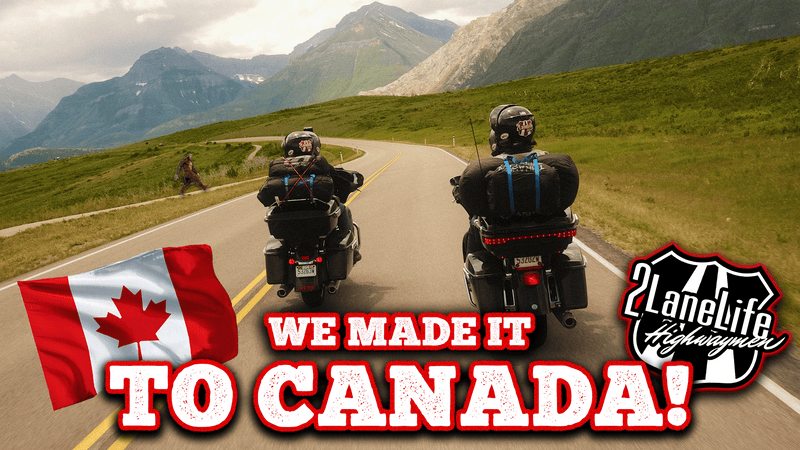 We finally crossed the border!
What a trip so far! After months of planning, some changes along the way, and an epic ride so far...we finally made it to Canada!!
We started off the day in Whitefish, Montana after a great stay at the Kandahar Lodge and headed into town to find some eats at The Buffalo Cafe which was recommended to us by a friend of Laura's. We headed out on Highway 2 which would eventually lead us into Glacier National Park where we hit a road closure on 49 and rerouted to make our way to MT17, which would lead right up to the Canadian border crossing. Along the way, we rode through vibrant green landscapes with trees all around and snow-capped mountains off in the distance.
Just a few miles past the border, we entered Waterton Lakes National Park to grab some lunch and get some of our first glimpses of the bright blue bodies of water alongside the road. We checked out a few spots in town and Trappers Mountain Grill ended up being our lunch stop, which did not disappoint!
With about 230 miles ahead to get into Canmore for the night, we still had some great times ahead and we were looking forward to the changes in scenery along the way. There were some fires up north and unfortunately we ran through some pretty heavy smoke for a couple hours along with some rain, but it made for a memorable experience nonetheless. 
After what felt like hours of riding without seeing any form of civilization on HWY-22 a.k.a. the Cowboy Trail, we transferred to the Trans-Canada HWY and rode into Canmore, which would serve as home base for the next two nights. We've seen some pretty mind-blowing stretches of highway in our day, and the ride into Canmore was right up there with some of the best like the ride into Zion National Park. With towering jagged rock structures on either side of the road, a dark tree line throughout, and the light smoky haze off in the distance, we knew the days coming would be filled with some once in a lifetime views.
Luckily, it stays light as late as 10:30pm there during the summer, so we checked into our AirBnB and hit the town for a late night dinner at Blake Brewhouse & Distillery for some tasty international fusion and cold beverages to celebrate another day of adventures!
See you down the road!

Focus on the Journey
Gearing up for long trips can be rough, but we've got you covered! Check out our catalog of products and feel free to reach out with any questions!