Posted on October 12 2021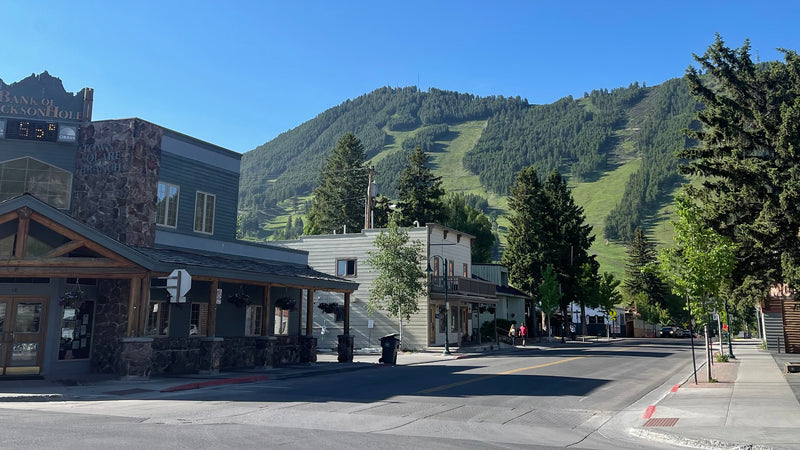 The Journey to Yellowstone Begins!
2LaneLife
Two moto-vloggers passionate about traveling and the open road.
It's finally that time! The journey to Yellowstone National Park was something that we had been planning for quite some time, and to be getting on the road was more than exciting! Not only were we looking forward to arriving, but the ride there through some of our favorite states just made it that much better! Although a direct route from Los Angeles to Island Park, Idaho where we would be staying is only about 1,000 miles, the plan was to snake our way up there hitting some great 2Lanes, and meeting friends and family along the way...and that's just what we did!
The previous two days were spent mostly on highways burning miles so that we could reach Utah, but our start in Salt Lake marked the beginning of some real exploring! We rode out to the Salt Lake City Airport, picked up the wives, then got on our way to Ogden to go see some of Gaylin's family. We took US89 right up to his mother's house in South Ogden, and were met with smiles and good times. It was interesting for Lance and Josh to meet the family, especially as most of them watch our videos and already know so much about us!
Since the beginning, we've always heard stories from Gaylin about one of his favorite burger joints growing up, Crown Burger. It was only right that we all went to grab a bite there, so we headed down the road for some hometown eats! "Crowned" as the best burger in Utah, we knew we had to give it s hot, and the experience did not disappoint! We had a great meal and conversation, then said our goodbyes and got back on the road!
We took a short ride on I15, which led us back to the 89, which we would take to Logan Canyon, a scenic byway beginning in Logan, Utah with some incredible scenery and tons of outdoor activities to choose from! Cutting through the Bear River mountains, we were met with riverside views all throughout, and eventually spitting us out just outside of Garden City with an epic open view of Bear Lake.  We took a quick pit stop for some world famous raspberry milkshakes at Labeau's, right in town!
This would mark the point where we would be passing in and out of Idaho, which was a great feeling knowing we were making some headway! While we rode, Gaylin shared stories from his childhood, spending time out on the lake with family, which gave us all a sense of feeling right at home. 
After passing through Montpelier, Idaho, we continued on US89 into Afton, Wyoming and a bunch of other small towns. There were flags flying, friendly faces, and beautiful scenery, and seeing this all from the 2Lanes of our beautiful country sent chills down our spines knowing that THIS is what it's all about. These are roads less seen, and experiencing them on two wheels instills that sense of adventure and love for the open road.
We spent some time riding right alongside the snake river, and as the sun began to go down and the colors of our surroundings morphed into that golden hue we enjoy so much, we pulled into our stay for the night, Jackson Hole, Wyoming. We unpacked the bikes, got checked in to The Ranch Inn, our stay for the night, then set out to find ourselves some grub!
We pulled in to town a little later than expected, but luckily The Silver Dollar Bar & Grill was able to get us in last minute! They had some phenomenal food, tasty drinks, and great service, and we were glad we were able to check it out! In towns like this, there are so many great family-oriented small businesses, and we were excited to see more of them during our stay, as we would be spending another whole day there before heading out.
We checked out the town before calling it a night, and we were happy to be spending some time in such a cool area! It was another inspiring day on the road, filled with good times, great food, and endless adventure! We hope you guys enjoyed coming along for the ride!
See ya down the road..
The Route
Here's the route that we took from Salt Lake City to Jackson Hole. Always be sure to check road conditions, and remember to ride safe!
 *2LaneLife is not responsible for peril**
Stay safe...stay inspired 

-2LaneLife

Focus on the Journey
Gearing up for long trips can be rough, but we've got you covered! Check out our catalog of products and feel free to reach out with any questions!