Posted on May 25 2021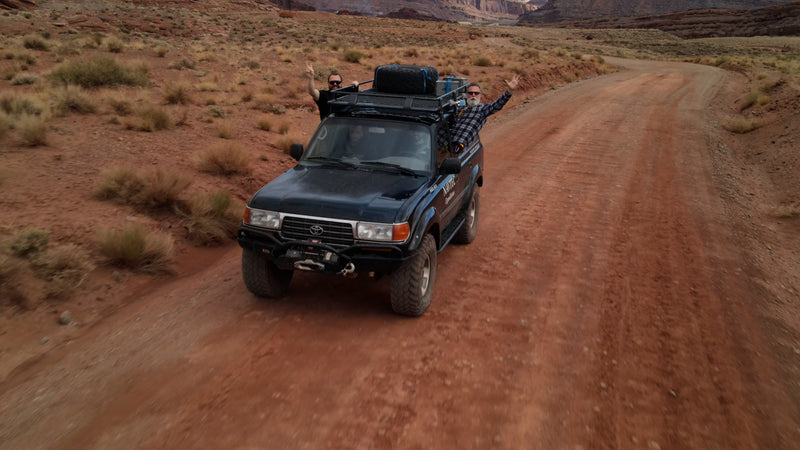 Exploring the Canyonlands and More!
2LaneLife
Two moto-vloggers passionate about traveling and the open road.
Usually on our trips, we are riding longer days and just spending the night in most towns, but luckily this trip was a little different! We were finally in Moab and were excited to spend a couple days exploring what it has to offer! There's an endless amount of things to do there, but we figured we'd get off of the beaten path this time and do some exploring off of the 2Lanes!
Josh's buddy Justin who he met in college, now lives in Moab doing 4x4 tours, so we figured that was a great opportunity to have a familiar face take us on an adventure! While some of the other routes that the touring company
NAVTEC
had to offer had more technical off-roading trails, we decided to take the Canyonlands Tour in order to get some specific shots and share some of the more scenic views. With all of the trails out there, you can't really go wrong though!
Justin picked us up bright and early, and we headed out towards the 279 where we would take our first stop of the tour before getting to the dirt. Right alongside the road, where we had rode just the day before, were petroglyphs all over the cliffs. He shared some interesting history with us on the different types of petroglyphs and where they came from. While the whole explanation didn't make the video, he showed us some really neat stuff, such as old maps of the Colorado River, depictions of Natives herding livestock, calendars, and all kinds of stuff. It's really interesting to see things like this and decipher them years later.
As we headed towards the trails, he shared some info on the various types of stone in the area that make up the canyons and rock features. As he explained, all of the surrounding sandstone we passed by on the 279 runs all of the way down to the Grand Canyon in a continuous layer, which is about 300 miles worth of sandstone! Not to mention that within the large slabs of rock are various layers of different type of stone formed over millions of years. Having someone take us through there that actually knew his stuff was great because we were able to learn some history and science rather than just enjoy the views.
Speaking of views, shortly after, we made it to the trails heading into Potash Mining Land, and were excited to be able to get "Gilbert" up in the air for some different shots! It was such different scenery than we're used to, and getting off road gave us a whole new perspective on the area. With enormous rock features in every direction, with different shapes and colors along the way, we were blown away by the diversity all around. 
Stop number two was at a giant balanced rock right next to the trail where a massive rock fell from above and landed, balancing on a much smaller rock feature. Supposedly a couple of years ago someone tried to push it off from the rock it is balanced on with a large Jeep, but he was unsuccessful as this rock is estimated to weigh over 250,000 TONS! That was a pretty crazy number to hear as there are so many rocks in the area laying alongside the trails that are even larger!
Up next on the list was Fossil Point, also known as "Thelma and Louise Point" as that was where the car launching scene in the movie Thelma and Louise was filmed. Justin gave us some interesting back story to how they filmed this scene and got all of the shots, and unsurprisingly, it took more than one take shooting a car off of a 1,000+ foot drop!
We walked over to the point and got an incredible view of the river down below and layers of rock structures on all sides. With the red rocks nearby, and snow-covered mountains off in the distance, it made for a pretty wild view, and to top it off, the weather was perfect!
From there, we headed out towards Canyonlands National Park with some great stops along the way. After entering the park, we were met with views of the white rim, which is a rim of sandstone formations named after its prominently white color. As we understand, newer layers on top are made of sandstone and older layers beneath are made up of mudstone which a softer rock, and is degrading more rapidly, causing those formations to look like blocks sitting on pedestals. Interestingly, the sandstone protects the layers of mudstone beneath it. 
As we made our way to the Shaffer Trail, we checked out some great landmarks like Musselman's arch, which is a unique flat arch named after a man in the 1920's who helped to build many of the roads in the area. It was a great sight right on the edge of the cliff, and has some cool history that Justin explained in the video. 
We were excited to see the Shafer Trail, as it had some similarities to the Moki Dugway, which we have done many times on the bikes, and were both built with the purpose of improving access to canyons down below mesas. This trail would definitely be a little more difficult on our bikes, so we'll stick to the four wheelers for this one. We saw tons of jeeps, a handful of adventure bikes, and even a few vans coming up and down the trail. There were long switchbacks with tight hairpin turns, and epic views of the vast valley below. 
Our last trail of the day, which is usually not on the Canyonlands tour, was the Long Canyon Trail, which did not disappoint! Starting off, we crawled down into a canyon between two towering rock structures and were spit out right above a famous section of the trail called "Pucker Pass" for good reason. In order to continue on, you have to drive under a massive fallen rock which leaves just enough room for the vehicle to get through. It was definitely something different, and we had a great time on the last section of the day.  
After the tour, we got a quick lunch with Justin, hit up a car wash to clean off the bikes, then hopped back on two wheels! We had a few recommendations to check out the La Sal Mountain Loop, so we figured there was no better time than a sunny late afternoon after a great tour! 

From the main road, we hopped on the 128, which is a beautiful 2Lane running along the Colorado River, with more unique rock structures. We soaked up the scenery, hit some fun turns, then turned onto the La Sal Mountain Loop into the hills! After the turn, the colors began to change and we rode away from the golden-orange rocks into the green mountains which patches of snow. As we climbed up into the hills, it began to cool down to a perfect 60 degrees and we were loving the crisp mountain air.  Seeing the terrain and weather change so quickly was a unique feeling, and it was cool to switch things up once again! 
We enjoyed our time on the loop, which ended up having tons of great turns and climbs in elevation before making our way back down into town through the back side of the mountain. As we got into town, the sun was just beginning to go down, and we found a great place called The Branding Iron on the way home for some steaks. We enjoyed a great dinner and shared our favorite parts of the day, then checked out the town for a few drinks. We landed at the Trailhead Public House & Eatery for some craft beers, and although they were technically closing down for the night, the owner welcomed us in for a few drinks and turned out to be a great dude! That's the type of treatment you only get in a small town! 
After another awesome day exploring Utah, we headed back to the motel to get some rest before the next day's adventures.
While we were going to take more back roads, the weather did not permit, but this route was still a great time, and we got to see some amazing views along the way! Always make sure to check road and weather conditions before traveling!
*2LaneLife is not responsible for peril**
This was our first trip where we shared some travels in different vehicles, so we hope you guys enjoyed the switch up! Stacking up miles on two wheels is always a great experience, but there's always cool things to do when you land in town as well!
See ya down the road!
Stay safe...stay inspired 

-2LaneLife

Focus on the Journey
Gearing up for long trips can be rough, but we've got you covered! Check out our catalog of products and feel free to reach out with any questions!