Posted on October 18 2022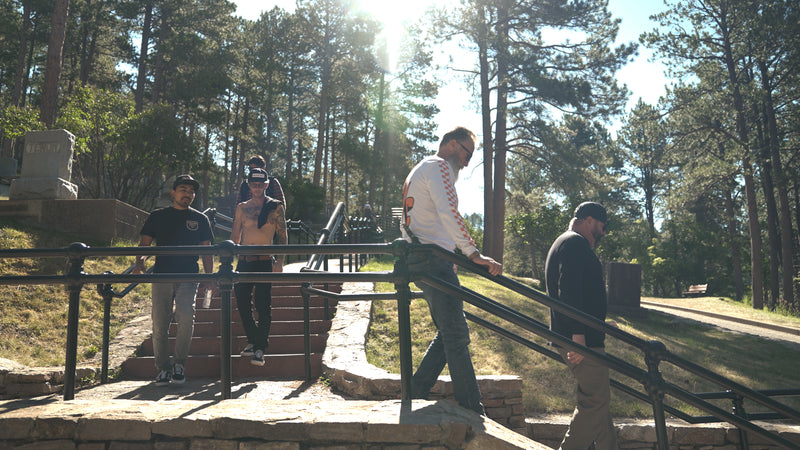 2LaneLife
Two moto-vloggers passionate about traveling and the open road.
It's the final day of our time at the 2022 Sturgis Motorcycle Rally and time to begin the 2 day 1,400 mile ride home! It seems like every year just gets better and better, and we had a blast getting to meet and see so many great people during the rally and on the way out there. From the riding to the camaraderie, to the new faces and stories, it was a trip to remember...aside from a few nights that we might forget!
Although we had some serious miles ahead of us, we had been meaning to see Mount Moriah Cemetery for a few years and never made it up there, so we made our way over to see some history! Mount Moriah is the site of many historic graves including "Wild Bill" Hickock and Calamity Jane, which both tie in for some wild west history! We hung out for a little while, checked out some other grave sights, then walked back down to say goodbye to the Thrashin' boys and hit the road.
We didn't have much of a plan for where we wanted to end up for the night, but we knew we at least wanted to make it to Rock Springs, Wyoming which is about 460 miles taking the central route through Casper. We pulled in just after 5:30pm and still had some energy for another push, so we decided to make the push another 175 miles to Heber City, and pulled in around 8:30pm just after the sun had set.
We've ridden through Heber a handful of times but have never spent the night there and weren't familiar with any good eats or stays, but after a quick search, we rode over to the Back 40 Ranch House Grill, and it did not disappoint! If anything, it was one of the best meals of the trip! Great local beers, a killer menu, and some epic mountainous scenery to match. We sat back, relaxed, and shared stories from the trip, and it was a great way to end the day before calling it a night at the Best Western Heber Valley, which was a great stay and let us park the bikes right out front.
All in all, it was a trip for the books and we can't wait until next year! We hope everyone enjoyed following along on the journey and can't wait to share the next series...riding from Tennessee to Kentucky and back hitting roads like the Cherohala Skyway and Tail of the Dragon!
See ya down the road..
Focus on the Journey
Gearing up for long trips can be rough, but we've got you covered! Check out our catalog of products and feel free to reach out with any questions!