Posted on November 15 2022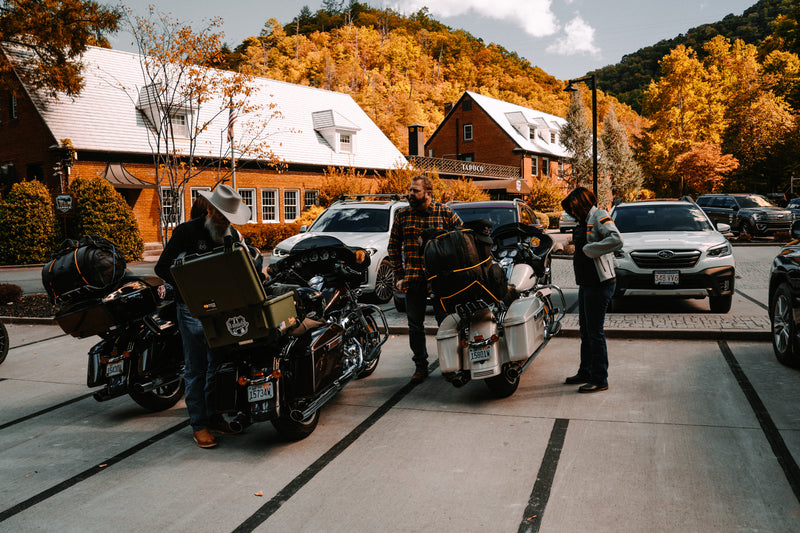 2LaneLife
Two moto-vloggers passionate about traveling and the open road.
Over the years, we've gotten people from all over the world giving us tips on where to ride and what to see, and the Tail of the Dragon has been one of the most prominent suggestions since the beginning. Until now, we've never ridden in this part of the country, and we're glad we had the opportunity to do so!
We started out the day at The Lodge at Tellico which was undoubtedly our favorite stay from the trip, even though we got in late and headed out early! We had initially planned to ride the Cherohala Skyway the day prior, but when we pulled into Tellico Plains, it was already dark. We tried to rent some cabins and thought we may be sh*t out of luck for a place to stay, but luckily Teresa saw a sign for it on our way in and they had some rooms ready for us! From the cozy, spacious cabin style rooms, to the garage parking for the bikes and some quick food in the AM, it was definitely a rider friendly stay, and the owners were some great people.
We got our early and headed to the entrance to the Cherohala Skyway, a 43-mile National Scenic Byway and National Forest Scenic Byway that connects Tellico Plains, Tennessee to Robbinsville, North Carolina. While this was on our list, we had no idea how much beauty and great riding we would get to experience on the way to the Dragon. We pulled into Robbinsville and were told to go to the Tapoco Tavern for lunch, and it was something else..
The Tapoco Tavern is part of the Tapoco Lodge Resort and is nestled in the colorful hills of Robinsville, North Carolina overlooking the world famous Cheoah River. Truly a spectacular sight, we were excited to enjoy a great meal right by the water! We had some pizza, salads, burgers, bowls, and a local beer, and it was a refreshing stop before our anticipated ride ahead. 
Not long after lunch, we got our first glimpse into why people enjoy The Tail of the Dragon so much. While we have much tighter canyons in our backyard, the smooth paved roads, vibrant green canopies above, and windy s-curves throughout made it a great ride. US129 has 318 curves in 11 miles and has plenty of enthusiasts enjoying it at any given time. We've been told it's a better idea to ride it on a weekday as things can get pretty crazy over there on the weekends.
After hitting the Dragon, our main goal was to make it to our destination for the trip...Cave City, Kentucky! We had some great stops along the way as well as some incredible golden hour views through the Northern Tennessee Farmland. 
We rolled into Cave City just before 9pm and wound up at El Mazatlan Mexican Restaurant for dinner to meet our host for the next few days, Leticia Cline!
We had a great dinner and found and cruised over to none other than the Historic Wigwam Village #2   which is just one of three Wigwam Motels left standing and is over 85 years old! After seeing these on Route 66, we knew we at least had to stay in one for a night to experience, and we did!
Another phenomenal day of riding in the books, and it was time to get some rest before another big day ahead! 
Focus on the Journey
Gearing up for long trips can be rough, but we've got you covered! Check out our catalog of products and feel free to reach out with any questions!